Welcome to Illustrated Tapes' favourite sounding and looking releases of 2018, chosen by this year's contributors. We've put together a playlist featuring one track from each of the releases featured so you can check out the sounds we were digging this year. Happy listening!
Ghost City

– Delta Sleep

10 August, Big Scary Monsters

Artwork: Owen Findley / Or8 Design

Selected by Megan Reddi | IT014

This is my favourite music/artwork combo of 2018! The whole album is just amazing - it is beautifully arranged and has this lovely dreamy quality to it, with repeated musical motifs woven throughout to really pull the whole album together. Not only is Ghost City musically fantastic, but the artwork is beautiful and so fitting for the album. It is designed and screen printed by Owen Findley and the warm colours, imagery and textures are just spot on.

Definitely my favourite release of 2018. It is my go-to driving album and I will be blasting it while we're driving around this Christmas!

︎IT014: Nautical Dusk | Megan Reddi


Both

– Okay Kaya

1 June, Heavy Body

Artwork/design: Kaya Wilkins, Aaron Maine, Phillip Wong


Selected by Hannah Buckman | IT016

Okay Kaya's Both as an album that came out this year which I enjoyed, and which I feel has a strong visual component to it. To me the album feels sickly (in a good way), gloomy but still pop. I think the mood is conveyed really well through the Adinah Dancyger directed music vids and the album art.

I liked finding out more about Kaya's thinking behind the project, like how the twin in the videos is like a physical manifestation of trauma… it's something that once I read I couldn't stop thinking about. The idea of something traumatic inducing this birth of a second self, a kind of split off part that is still attached in some way to the whole, but there being a kind of safety in acknowledging what might be a darker part of yourself, from a distance. Also the album art kind of conveys the idea of duality and how that relates to race/sexuality, but I didn't feel like that was really explored as much. I think I like this album 'cos it kind of ties in with things (mentioned above) I'm currently interested in, but maybe it feels a bit surface-y at times.

︎ IT016: Protect Your Extremities | Hannah Buckman


Quavo Huncho

– Quavo

12 October, Capitol / Mowtown / Quality Control

Artwork: Mihailo Andic

Selected by Conner Perry | IT020

I think my favourite music/design combo of this year has to be Quavo's Quavo Huncho. Not only is it full of bangers, the cover by Mihailo Andic is just brilliant. It really sets itself apart from the Migo's visuals and changes the way you listen to the record. Definitely check out the rest of his work, especially the stuff for Lil' Yachty.

︎ IT020: Nice one bruva | Conner Perry



Wide Awake!

– Parquet Courts

18 May, Rough Trade

Artwork: A. Savage

Selected by Holly St Clair | IT021

I was really late to the Parquet Courts party, but actually both of my initial encounters with their two recent releases have been solid arguments for the importance of decent album artwork. For both Wide Awake! and Human Performance I ran into - literally - the artwork before the music. Twice, two years apart, whilst wandering around London I turned a corner and came face to face with Adam Savage's superb cover work. He smacked me in the face with poppy colours and amorphous dancing forms and I loved every moment. Add in an anarchic use of type and you've got me shouting, "Oh shit! A new Parquet Courts album!" to no one in particular outside an old meat market in Shoreditch.

A. Savage is both front man and painter and that adds a special flavour to the whole affair. Album marketing can be a laboured, commercially driven affair, there's something authentic - a little DIY flavour - about this relationship between artwork and music. It's a nice parallel to the musical throwbacks typical of the bands style. Wide Awake! dropped earlier this year and it's fab. (Although, I love the artwork so much even if it was god awful I'd still buy the record and hang it on my wall.)

︎ IT021: To: You, Love: Me | Holly St Clair


When Haro Met Sally

– Deadly Avenger

23 May, Burning Witches

Artwork: Luke Insect

Selected by Thomas Hedger | IT017

According to my recently played, I've been stuck on a pre-'90s loop. I've crept slowly into 2018's releases picking out albums like books - by their covers - and it really paid off! I don't often delve into electronic but I love this album, it's a perfect blend of hopping on your bike and hitting the tracks, nailing the look of how the album feels in all its haze. A solid sunny day good time.

︎ IT017: Sink | Thomas Hedger


Cocoa Sugar

– Young Fathers

9 March, Ninja Tune,

Artwork: Tom Hingston

Selected by Katie Chandler | IT003

This cover was immediately striking and memorable to me. Upon listening to the album, I found that the artwork resonated with this feeling of odd, unrestricted expression. It's a little unsettling, ultimately bold and intriguing. Much like the music, it feels hot and cool all at once, like a burst of energy that leaves you in a sweat. It's the exhilarating soundtrack to your runner's high, and you're not really sure why you're running or what you're running from.

︎ IT003: Porch Light | Katie Chandler


Suki Nara Towanai (好きなら問わない)

– Gesu no Kiwami Otome (ゲスの極み乙女。)

29 August, Taco Records

Selected by Greg Stasiw | IT009

Although it's not the ambient and electronic fare I usually enjoy, Suki Nara Towanai (好きなら問わない) by Gesu no Kiwami Otome. (ゲスの極み乙女。) is a hoot. The artwork features a stylized neon pachinko machine. Or maybe it's a console in a rad indie pop spaceship, which would also make sense for this funky fresh group! It feels somehow familiar, somehow alien, and altogether really, really cool.

The neon suggests something retro, and there are some retro leanings in their funkier tracks, but it's definitely neon as seen in 2018. Modern pop (and J-Pop) tropes emerge, but infectious basslines, tight drumming, and smart keys make this album something special. Some math rock even surfaces at times, and the remix included proves that this group goes for whatever feels fresh. One look at the artwork reminds me that this is one of the funnest albums I've listened to in a while. "Funnest" is definitely a word when you're talking about this band!

︎ IT009: Atmospheres | Greg Stasiw


Collapse EP

– Aphex Twin

14 September, Warp

Artwork: Weirdcore

Selected by Alex Vissaridis | IT002

2018 was a great year if you grew up listening to the music I was into. Some of my all-time favourite artists released new stuff this year, and they didn't disappoint. The artwork was pretty excellent too, but nothing grabbed my attention like the world created around Aphex Twin's Collapse EP. Album art doesn't seem to mean as much as it once did, so it's always exciting when it appears outside of the little square on your screen in unexpected ways.

This year, Aphex Twin logos appeared all over the world, from Elephant & Castle tube station to the side of a record store in Tokyo, designed in a way that made it look like the logo was collapsing into the environment around it. I'm a sucker for stuff like this; random cryptic messages that send internet detectives into a frenzy. It was eventually announced as marketing for the Collapse EP, but they kept the 'collapsing logo' visual going on the EP artwork, in the music video for the track 'T69 collapse', and even through to projection-mapped videos around London (again announced in typical smoke-and-mirrors fashion) and a collaboration with Crack magazine. Way more than just a collection of pixels.

︎ IT002: Tape Fuzz | Alex Vissaridis


Wild Yout

[EP] – Flohio

2 November, Alpha

Selected by Rachel Maughan | IT012

I got into Flohio after I saw her on COLORS in January with 'Band'. She's fucking explosive on that track, you can feel her spitting straight into your chest. She's been savvy with her producers and killed her work with God Colony - 'SE16' was my most played track of the year. Her 2018 EP, Wild Yout is a cocktail of perfection.

Mashing up genres it's a high energy listen with punchy, grimey hip-hop that is uniquely South London. The artwork is beautiful simplicity - her achingly slick androgynous aesthetic, the clean photographic composition, with a flowing chain to bring it tightly back to SE. Gorgeous.

︎IT012: High Rise | Rachel Ailey


Sink EP

– Sudan Archives

25 May, Stones Throw

Photography: Jack McKain, design: Jeff Jank

Selected By Tom J Newell | IT004

Sink submerges the listener in flowing loops and beats, with splashes of violin and vocals floating above the sunken monolith, which stands tall on the deep blue cover art. The composition is reminiscent of two of Jank's other iconic Stones Throw sleeves, Donuts and Madvillainy and continues his striking yet varied art direction for the label.



Check out the 'Nont For Sale' video from the EP too, which adds powerful choreography and styling to create another successful visual accompaniment to the music. Much love to Sudan Archives and hats off to Jeff Jank. I painted a tribute to the cover art on a 12x12" piece of wood.


︎ IT004: FEAR. | Tom J Newell





Hippo Lite

– Drinks

20 April, Drag City

Selected by Molly Fairhurst | IT015

Hazy, dazed, an album I hold dearly to 2018 (and many strangely lit walks in a then new, unknown city).

A collaboration between Cate Le Bon and White Fence's Tim Presley, the pair took an (isolated) retreat to St Hippolyte-Du-Fort in the south of France to record, frankly, crudely, seemingly, whatever the fuck they wanted to. Hippo Lite is born, a joyful, playful, sometimes quiet, sometimes screaming object.

What senses like an eavesdrop through closed doors rightly has a cover that can't be quite understood- a narrow column of, at the glance of the reader, 'nonsense' notes, which flank photos of Le Bon and Presley. Both are snapshots of an absurd holiday we have been invited along to, so long as we sit across the table. A tender and private piece.

︎ IT015: The Wilder Woman | Molly Fairhurst


King of Cowards

– Pigs Pigs Pigs Pigs Pigs Pigs Pigs

28 September, Rocket

Artwork: Sophy Hollington

Selected by Drew Milward | IT010

First off, this album is wall to wall, solid gold bangers. Kind of like the lovechild of The Fall and Black Sabbath, who has been cautioned by the police for possession of a massive bag of skunk, a bong in the shape of a skull and a copy of 'The Holy Mountain' on DVD.

Aside from the fact it's a full on riff-o-rama, the artwork by Sophy Hollington is absolutely incredible. It summons up the sound of the band, via folk horror infused wildness. It really captures the sonic landscape of the album, yet completely avoids any of the cliched imagery that could so easily have taken its place. It really is the whole package.

︎ IT010: BE GONE, YOU CREATIVE GREMLINS! | Drew Milward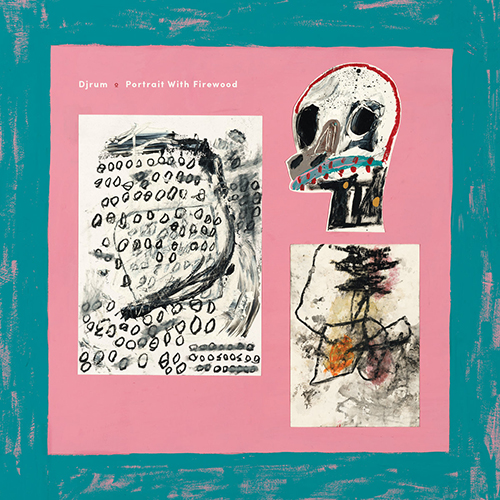 Portrait With Firewood

– Djrum

17 August, R&S

Artwork: Michael Mitsas

Selected by Sam Ailey | IT001

With holistic production, emotional range, and a captivating narrative, this really is a stunning listening experience from start to finish. Felix Manuel combines electronic and acoustic sounds seamlessly on this intimate record, with exceptional attention to detail in his sampling and tender piano sections played by Felix himself. Portrait With Firewood has a beautiful and unique sound that Felix has etched out into the wider landscape of electronic and dance music. It's really a rare gem.

Michael Mistas's cover art is a real departure from the typical design aesthetic of electronic albums and caught my attention straight away. I love its composition and rough, imperfect execution. To me these feels reflective of the range and depth of emotional states explored across the album, and the feeling that some things are easier to express through your craft than with words. Plus I'm a sucker for pink things.

︎001: Quiet by Sam Ailey

TRACKLIST

DRINKS - In the Night Kitchen / Sudan Archives - Nont For Sale / Aphex Twin - abundance10edit[2 R8's, FZ20m & a 909] / Deadly Avenger - Chrome / Okay Kaya - Habitual Love / Young Fathers - Border Girl / Quavo - HOW BOUT THAT? / Delta Sleep - Dotwork / Gesu No Kiwami Otome - 戦ってしまうよ / Parquet Courts - Wide Awake / Pigs Pigs Pigs Pigs Pigs Pigs Pigs - GNT / DjRUM - Waters Rising / FLOHIO - Wild Yout