Rhianna is an illustrator and animator based in Cardiff, Wales.

Hi Rhianna. Can you tell us a little bit about your tape and your song selections?

The imaginary Video Game 'Gobbins!' is a Surreal Fantasy game I came up with a couple of years ago. You play as a set of funky goblins collecting exciting and strange items and interacting with different characters. I spent a lot of time selecting the songs for the soundtrack to seek out all of the weird little interlude songs and oddball tracks on my favourite albums. All together they create the perfect atmosphere for an abstract adventure!

Some tracks are fun and nostalgic, and others are uncanny and unfamiliar. I love everything odd so the songs on the mixtape display an array of emotions with a common theme of weirdness and chaotic vibes. There's dreamy electronic stuff in there as well as crunchy rock, grubby punk and my personal favourite, lots of squidgy psychedelic guitars. I like the idea that each person who listens to my soundtrack imagines a different adventure that the characters are having. It's time to really get into goblin mode and imagine yourself grubbing around looking for trinkets!

What direction did you take with your cover art, and what was your process?

As the game is about collecting, the Gobbins on the album cover have collected an item relating to each of the 22 songs on the mixtape. The 22 drawings surrounding the central Gobbins represent the songs chronologically, so they tell a story too! I drew the border to be reminiscent of the 'heads up display' around the edge of the screen when you play a video game.


For the central Gobbins, I took the direction of combining clay and drawings. I find that when 3D and 2D are together in the same image, they make a piece of artwork a little uncanny and mismatched, which is an effect that matches the music perfectly. The little characters are made of polymer clay and I made them a clay rock to climb on and explore! To make it extra video gamey, I manipulated the work digitally to give it a computerised vibe.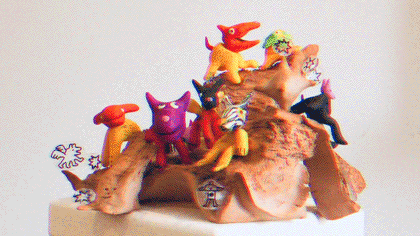 What are your fave album covers, records with a great music and artwork combo, or musical projects with a visual component?

I find it super exciting when an artist is treated like an extra member of the band, like with the band King Gizzard And The Lizard Wizard (two of whom's songs appear on my tape because I couldn't choose just one!). King Gizzard's artist Jason Galea creates 99% of the artwork for them and he is an extension of the band that shares their vision. I particularly like the Paper Mâché Dream Balloon artwork which has no doubt served as inspiration for my Illustrated Tapes artwork.

Paper Mâché Dream Balloon
– King Gizzard and the Lizard Wizard
2015, ATO / Flightless Records
Artwork: Jason Galea
Bar Bruise

– King Gizzard and the Lizard Wizard

2012, Flightless Records

Artwork: Jason Galea


I am also enamoured by the band Pom Poko and their artist Erlend Peder Kvam. They take a similar approach to combining music and art as King Gizzard, and there is nothing more interesting than seeing the way the Erlend Peder responds to each different album they make!
Birthday

– Pom Poko

2019, Bella Union

Artwork: Erlend Peder Kvam


What did you listen to growing up?



I listened to lots of the funky music that my musician parents would listen to, including Folk music, Metallica, and Madness. My earliest musical obsession was KT Tunstall, and then I got really into collecting second hand CDs in my teens where I would listen to Vampire Weekend, Tame Impala and many of the bands on my mixtape!

And what's on heavy rotation for you at the moment?

I am currently making my way through Mac DeMarco's 199 song album that he just released which is over 8 hours long! Other than that, I am listening to all of the other amazing past Illustrated Tapes and lots of Mario music (specifically from the game

Paper Mario and the Thousand Year Door

).

What's happening in your creative world at the moment?

I have recently moved to Cardiff and I'm having an excellent time meeting other creative people! Since moving here I have stalled at Shake XL Bristol Art Fair and Arthole Illustration Market.

I am working with the Independent Gig Company 'Killi Events' to make exciting character filled posters for all of their upcoming events. I am working on poster 34 at the moment, and I'm very happy to be a consistent member of the team. Check out the posters here:

https://www.instagram.com/killi_events

In a nutshell, I am making lots of art and seeing where it takes me. Be it commissions, projects I've set myself or silly goofy drawing time in the sun. I am surrounded by art and my spirit for being creative is unwavering!

Where can we find you?

Instagram -

instagram.com/rhiannaberthoud

Portfolio Website -

rhiannaberthoud.com

Linktree-

linktr.ee/RhiannaBerthoud Thanks Rhianna 👋🏽

TRACKLIST
1. Come In - Weatherday / Crazy Energy Night - Pom Poko / Jump into My Mouth and Breathe the Stardust - Black Moth Super Rainbow / Horse Hot Wee Wee Water - Mac DeMarco / Gummy Worming - Graham Kartna / Treehouse - Alex G, Emily Yacina / Fo-Ti - MF DOOM / Trapdoor - King Gizzard & The Lizard Wizard / You Should Never Have Opened That Door - Ty Segall / The Lord of Lightning - King Gizzard & The Lizard Wizard / Eh Okay - Factor 50 / Super Soaker - Wavves / Eple - Röyksopp / Out of the Box - Jack Stauber's Micropop / You Know I Know - Mamalarky / Balloon - Crumb / The Dream - Thee Oh Sees / Do You Hear The Sounds? - Mothman, The Man / Nerve Damage! - Unknown Mortal Orchestra / You're Dead - Norma Tanega / Reptilians - STRFKR / Quilt - Weed ︎