---

Georgie is an illustrator / artist based in Devon, UK.

Hiya Georgie, Can you tell us a little bit about your tape and your song selections?

Keeping Afloat is a playlist inspired by my continued love affair with wild swimming.

To me these songs feel filled with a sense of buoyancy – there's something in the repetitive nature of swimming that's reflected in them. The water is the place where I slip into a dream like state as I bob along. I wanted this collection of songs to be a mixture of both joyful, upbeat tunes that give me the drive to wake up for my morning swim, and also songs with a more calming, ethereal quality reminding me of the magical feeling that comes from floating in the open water.

Since discovering my love of outdoor swimming, whether it be a lido, wild pond, lake or ocean, I can genuinely say I've found myself becoming a happier human. I find it curious that the definition of swimming is to keep yourself afloat and make progress, as that's exactly what it does for my mind too. I hope this playlist and cover art might inspire others to go for their morning swim!

What direction did you take with your cover art, and what was your process?

I wanted the cover art to feel like an immersive landscape for the viewer to dive into, looking to artists like Hockney for inspiration on the different ways they've created the illusion of water in their work. For my colour palette I composed a base of deep, leafy greens and dark blues to create that murky effect that comes with swimming out in nature - you're never too sure what's lurking beneath the majestic waters of wild ponds.


David Hockney
David Hockney


What are your fave album covers, records with a great music and artwork combo, or musical projects with a visual component?


Surely the best album cover ever has to be Sgt Pepper's?! I'm a huge Peter Blake fan. I love how sincere and affectionate he is in celebrating popular culture in his artworks - including memorabilia like his favourite bands, cigarette packets, food, drink and car brands…fine art can be so snooty and elitist, so it's exciting to see paintings like his that start to break down those barriers.


Sgt. Pepper's Lonely Hearts Club Band
– The Beatles
1967, Parlophone
Artwork [painting]: Peter Blake
Photography: Michael Cooper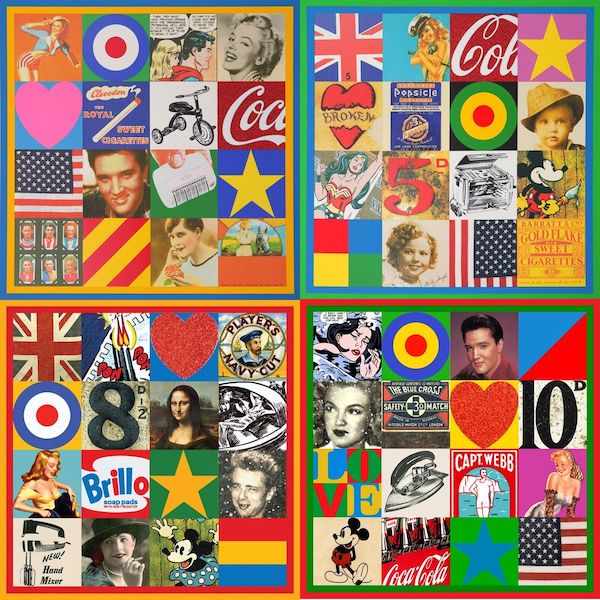 Peter Blake


I think any cultural movement where music and art feed off each other is also fascinating. Between them the Sex Pistols and Vivienne Westwood created the entire aesthetic of Punk, and the same goes for the Beatles and Mary Quant with the 'mod' look.

One day I'd love to get into illustrated animation for music videos - there are some great ones by the likes of Foals, Gorillaz and Moby.



What did you listen to growing up?

I really first got into music in Year 6, when we could choose our own topic for a project at school; I went with music from the 1950s to present day. Suddenly I was walking round with my pink iPod classic brick listening to all this soul and blues stuff like Wilson Pickett, Al Green and Jackie Wilson – pretty strange for an eleven year old. I guess some of my dad's taste also seeped into what I listen to now from all that time in the car together when I was younger - a lot of U2, Travis and Lenny Kravitz. I love that we're always sending each other song recommendations now too.

And what's on heavy rotation for you at the moment?

Cat Stevens is my current favourite. Also listening to "Seabird" by the Alessi Brothers on repeat as it's reminding me of life on the road (I've just returned from a four month camper van trip round Europe!).

What's happening in your creative world at the moment?

I've got a solo exhibition, Travels in My Van, that's currently in full swing; a collection of works from and inspired by the trip! The show moves from my hometown in Cheshire to London next week. Catch it at Tap & Bottle from 11th - 22nd October if you're around!


Also currently working on a book cover and some illustrations for wedding stationary – all dream jobs for me. I like to choose illustration projects that are super varied to keep me inspired.
Where can we find you?
Insta:
@georgiestewartillustration

Website:
www.georgiestewart.com
Thanks Georgie 👋🏽