---

Damian is an illustrator and designer based in Rotterdam, Netherlands.

Hoi Damian! Can you tell us a little bit about your tape and your song selections?

Hi thanks for the invite! My taste in music is partly created by my mother's taste in hip-hop and R&B.

When I was a bit older I started collecting vinyl together which led to one of my fondest memories with her. 'Mommy's Mixtape' is an embodiment of that time and those memories.

On this tape you will see songs by legends like MF DOOM, De La Soul and A Tribe Called Quest, but also more recent artists like Little Simz, Noname and Loyle Carner. In my opinion a mix of some great bangers to get you through your day!

What direction did you take with your cover art, and what was your process?

It took me a while to come up with a final design, I wanted to visualise the moment when me and my mother would go through our vinyl collection together. For the first few sketches I was drawing a lot of vinyl shops with the whole interior, but felt it was a lot of information for such a small frame.

So I settled for a more simplistic design that would be more readable overal. Me picking out the perfect banger to play on our record player. With the heart signet ring visualising the bond between my and my mother. The vinyl covers in the illustration are my own rendering of my favourite albums.

What are your fave album covers, records with a great music and artwork combo, or musical projects with a visual component?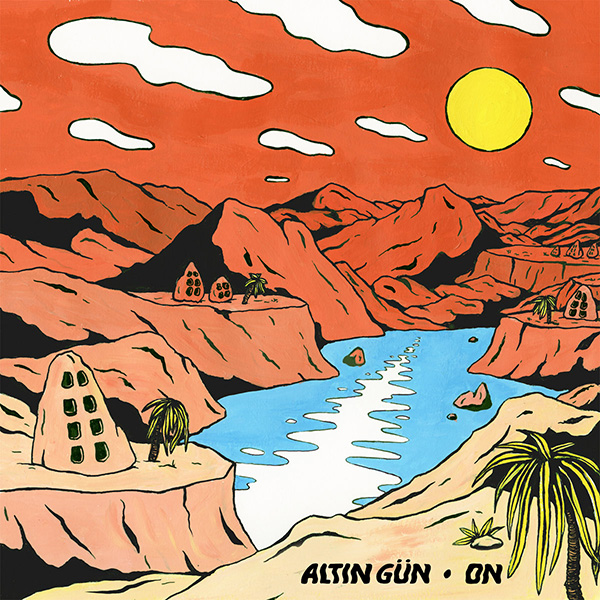 On

– Altin Gun

2018, Les Disques Bongo Joe

Artwork: Floor van het Nederend


Altin Gun, an interesting mix of Turkish folk, psychedelia, funk and rock. This cover just captures all of those styles in one illustration, a completely new world!


MM..Food – MF DOOM
2004, Rhymesayers
Artwork: Jason Jagel
Design: Jeff Jank



The album cover was painted by artist Jason Jagel and designed by Jeff Jank. The cover is aesthetically pleasing with the combination of soft colour and that 80s 90s graffiti typography which just embodies his style of hip-hop for me. For me all his album covers capture his personality, as he portrays himself as an alter-ego super villain both visually and in his style of rap music.


On All Fours
- Goat Girl
2021, Rough Trade Records Ltd
Artwork: snailmxn & Richard Limper
I was blown away by the latest cover artwork of Goat Girl, On All Fours. I've been a fan since the beginning. Their use of illustrations and paintings is the perfect visualisation for their music. Wacky characters with a dark undertone.
What did you listen to growing up?
When I grew up I had a big emo phase where I listened to bands like: Green Day, Jimmy Eat World, Radiohead and Fall Out Boy. On occasion I will put one on if I feel like it, 'Creep' by Radiohead still is one of my favourite songs from that time. That eventually faded away and made room for my love for hip-hop and R&B.
And what's on heavy rotation for you at the moment?
Right now i'm switching a lot between the genres psychedelic rock/punk and hip-hop & R&B
I'm obsessed with the latest album of Goat Girl and King Gizzard & The Lizard Wizard. Perfect tunes when I'm working and want to get things done. During the evening I listen to a lot of hip-hop & R&B like Loyle Carner and Noname.
Few of my favourite songs at the moment:
"Hate" - Loyle Carner
"Come on, Let's Go" - Tyler the Creator, Nigo
"Rainforest" - Noname
"Sad Cowboy" - Goat Girl
"Automation" - King Gizzard & The Lizard Wizard
What's happening in your creative world at the moment?
I've been very busy this summer! Now that events and festivals can take place again I've organised some illustration oriented workshops and performances. At Awakenings Weekender festival a few months ago I organised a series of live paintings together with the public. I'm also planning to do a solo exhibition in the near future. I've been working on some private pieces between freelancing, the only thing is finding a good place to exhibit everything.
Where can we find you?
You can find me and my work on instagram
@damiansoest
And on my website
damiansoest.com
Thanks Damian 👋🏽