---

Chloe is an illustrator based Hackney, London.

Hi Chloe. Can you tell us a little bit about your tape and your song selections?

Hi! Thanks for having me here. This is a workout playlist really, for my main form of exercise and favourite pastime – hula hooping! I hate working out, but I love being a kid. Any child-like hobbies; skipping, dancing, hula hooping, claymation? Count me in! I got my hula hoop about 8 years ago from the Argos catalogue and it's a whopping 90cm wide, the outer hoop is damaged from wacking different units and objects in my tiny flat. I wanted to make a mixtape full of songs with lots of nice beats, different rhythms and tempos you can zone out to, move your hips to and hula hoop your troubles away!

What direction did you take with your cover art, and what was your process?

I normally start any drawing by making loads of rough colour sketches. I care about the colour palette the most! Once I've got that right, I'll start to develop the illustration on my iPad, playing around with the line work and composition until I'm sick of looking at it.

What are your fave album covers, records with a great music and artwork combo, or musical projects with a visual component?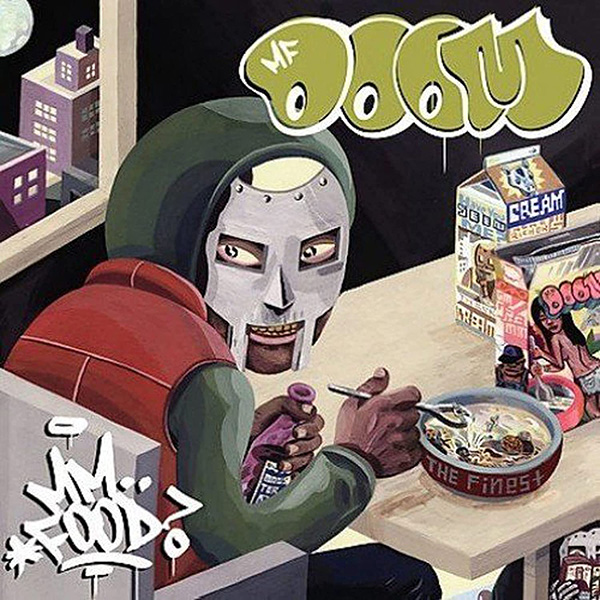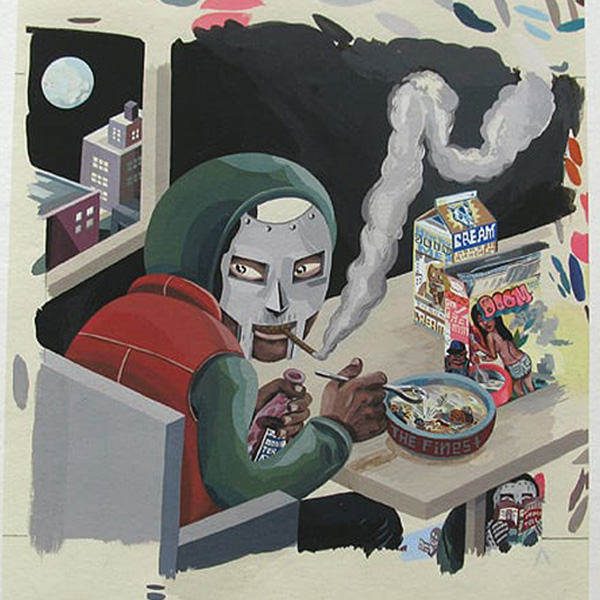 MM.. FOOD

– MF DOOM

2004, Rhymesayers Entertainment

Artwork: Jason Jagel


My favourite album cover of all time is MF DOOM'S - MM.. FOOD. Painted by Jason Jagel with art direction by Jeff Jank. The colours are beautiful, and I love the details hidden into the edges. The painting is multi-layered and undiluted just like MF DOOM's lyrics are. The original painting had a large blunt and smoke cloud, I read somewhere that it was edited out of the cover as requested by MF DOOM, as he'd just become a father.


Israeli Salad – Alchemist
2015, ALC Records
Artwork: Unga



I love the artwork of Israeli contemporary artist Unga, from the Broken Fingaz Crew. Especially the album cover he did for Record producer the Alchemist's Israeli Salad. It's a concept album based almost entirely on audio collaged Israeli samples and Hebrew recordings. I live in Stoke Newington, which is home to three murals by BFC, I'm a big fan so I feel lucky that I get to pass these pieces every day.




Goo

– Sonic Youth

1990, DGC

Artwork: Raymond Pettibon


Raymond Pettibon is my favourite artist. His work has inspired me a lot. The drawing for the cover of Sonic Youth's album Goo, was based on a photograph of Maureen Hindley and David Smith. I love that it looks like it could be a demo tape rather than a corporate release. I love that the cellotape has been left on, the illustration just looks like it was pulled straight out of one of his zines! I feel like I can tell by his drawings that he is a compulsive drawer and I relate to that for sure.


Hello Nasty

– Beaste Boys

1998, Grand Royal / Capitol

Art Dir: Cey Adams

Design: Bill McMullen

Photography: Michael Lavine


I love the cover art way more than the album itself, I actually only like one song from the album (Track 15 - "I Don't Know"). I love the three of them stuck in a tin of sardines. it's a visual call back to the line, "MCA, where have you been / Packed like sardines in the tin" from the song "Body Movin". I love the fuzzy yellow glow behind them and don't get me started on the font :o I remember being obsessed with the inner sleeve as a kid, it had a graphic of a space station and a dog in a spacesuit!



What did you listen to growing up?

The first CD I ever bought was the Gorillaz –

Demon Days

, from Woolworths with money from my 10th birthday. 100% because of the cover art, I'd never seen anything like it. I think it started my love for experimental music and genre-dabbling.

And what's on heavy rotation for you at the moment?

I've been listening to a lot of Jonatan Leandoer96. I've always liked Yung Lean, but this project really clicked with me. its groggy, its monotone, its lo-fi, perfect for summer lol! & The Breeders' album

Last Splash

has been on repeat as well.

What's happening in your creative world at the moment?

I'm currently part of an exhibition at

Spitalfields Studios' called 'Galvanise'

which is open until 4th August.

I work full time as a Digital Designer for Reebok, so that's been keeping me busy! Outside of that I've been dedicating lots of time to my own personal practice. Which saves me from burnouts and feeling disillusioned by the marketing industry.

Where can we find you? @shloecmith

on Instagram and

chloesmithillustration.co.uk Thanks Chloe 👋🏽