Illustrated Tapes 167: Bring Back the Loose Socks

✏️ Knifeson Yu
🗓 30.06.22
🎵
spoti.fi/3a7lw43
Knifeson is a 2D animator based in London, UK.
---

Hi Knifeson! Can you tell us a little bit about your tape and your song selections?

Hey everyone! Welcome to my tape.

I am from Hong Kong but also into Japanese culture. So, back in the day when I was in secondary school, these are songs that I listened to a lot, the era of Y2K. Most of them are catchy pop songs you can dance to. My selections mainly are Canton-pop and J-pop, I can't 100% understand all the lyrics but I still enjoy the melodies. Nostalgic! HAHAHA!!

What direction did you take with your cover art, and what was your process?

The theme is "loose socks"

Yes!! It was one of the iconic things back in the 00s, one of the weird fashion but viral in Japan. Because Hong Kong is so close to Japan and kind of follows the trend from them (probably everyone does follow the JP trend, always... lol). From fashion to food, from drama to music, from manga to anime.

Oh , yes I also grew up with a lot of manga + anime.
This is why my illustration looks like this. ( ͡° ͜ʖ ͡° )!!

I drew the loose socks, with a MiniDisc player, cup noodles, a bottle of Pocari Sweat, and the classic flip phone, like the Purikura photo booth thing.

Fyi these photo booths are also of the 00s era:


What are your fave album covers, records with a great music and artwork combo, or musical projects with a visual component?

Compared to Japan, album designs in Hong Kong are really terrible, a lot of great songs tho!!

Sooooooo, I chose this! Supermarket Fantasy by Mr. Children

I Remember the reason I listened to this band, because the album cover got me; snacks surrounded two people who were kissing, the idea just beautiful. Kazutoshi Sakurai, the vocalist of the band said "Music may be consumed and songs may be consumed." And I think this album had a lot of greatest hits from the band. Also, look at what she is wearing, THE LOOSE SOCKS !!!!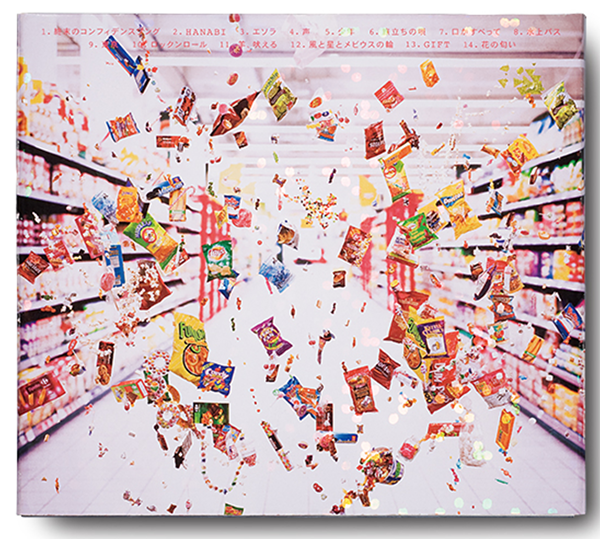 Supermarket Fantasy – Mr. Children
2008, Toy's Factory




I love how they flow in the supermarket like in space.



What did you listen to growing up?

This playlist, HAHAHAHA

From canton-pop to J-pop, anime songs, moved to Brit-pop like Blur and Pulp, rock stuff like Foo Fighters, and emo like My Chemical Romance.

And what's on heavy rotation for you at the moment?

Actually, I've been listening to a lot of indie music since I moved to London back in 2014 – gigs every month, sometimes weekly!! I found a lot of cool music and bands while I went to events like Sofar Sounds, or big festivals like Primavera.

Also, I discovered a lot of new good bands from Hong Kong recently, there is a very cool community called Zenegeist, I learnt so much from them.

Now I am into electronic music and jazz and dream pop ( ಠ‿<)!! What a jump.

What's happening in your creative world at the moment?

Probably the crisis of age 30+, I wanna keep the energy and be active on everything, but my body is just tired ALL THE TIME. Work-wise, I've been a freelance animator for 7+ years, but struggling a little bit because I haven't improved much. I would like to do more personal work to balance out my other jobs.

That's why I wanted to do this project and draw something I like, refreshing : )

Where can we find you? instagram.com/knifesonyu
Thanks Knifeson 👋🏽