Dave is an illustrator and muralist based in Bristol, UK.
---

Greetings Dave. Can you tell us a little bit about your tape and your song selections?

You finally arrive, having travelled further than before. The planet is a stranger to you. And, there is a hush. Quietness. You're not sure what to expect as you climb down from your spacecraft.

You adjust your vision lens and venture out, taking care as you climb through coils of other-worldly branches, which push up from a soft, indescribable surface. You pick up a slight rhythmic pulse on your monitor from up ahead. Something perhaps brushes past your feet.

There is a hum, a pattern, a rhythm that grows louder and then falls away. The leaves seem to drip sound. Dots, swirls or pollen fall around you. Are you losing control? Is someone, or something, also here with you. You look behind you, but can't remember if you'd only just turned around. Maybe you have been here before, you wonder.

What direction did you take with your cover art, and what was your process?

The space-explorer is from an ongoing series of 'Exploration' artworks, which I've been putting out into the universe over the last few years. I wanted to depict this character moving through an otherworldly land unaware of its native inhabitants.

My process started in the sketchbook with a 4B pencil and no rubbing out… just lots of scribbles and composition figuring out, plus some sketches of the creatures. I photographed my favourite composition and dropped it into Procreate, where I did a tighter line drawing before adding colour. Most of the final artwork I did in Procreate, with some extra texture and detail in Photoshop.

What are your fave album covers, records with a great music and artwork combo, or musical projects with a visual component?

Two that immediately spring to mind are the self-titled LP African Suite with its colourfully brash tropical artwork that screams of the hot, sweaty disco contained within.


African Suite

– African Suite

1980, MCA

Artwork: William Rieser

Another is the album cover of Satoshi & Makoto's CZ-5000 Sounds & Sequences featuring the duo in profile with a Casio CZ-5000 keyboard suspended above their heads, as if beamed up into another dimension. I close out my tape with a track from this LP.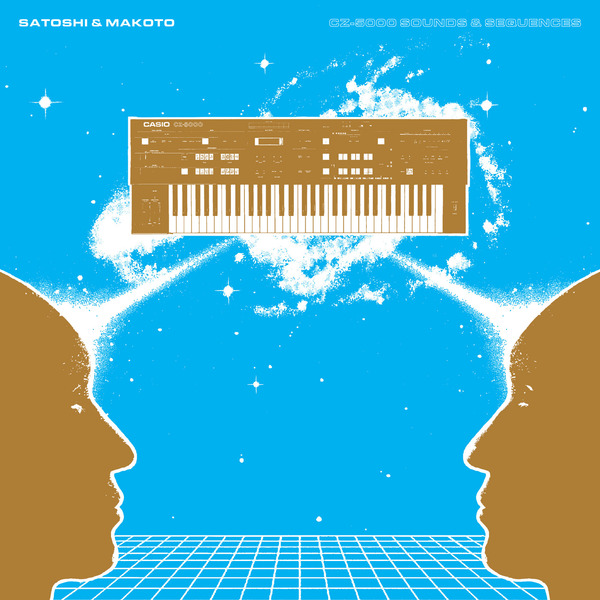 CZ-5000 Sounds & Sequences
– Satoshi & Makoto
2017, Safe Trip
Artwork: Steele Bonus
What did you listen to growing up?
Mostly Vengaboys.
And what's on heavy rotation for you at the moment?
Last year's LP
Space 1.8
by Nala Sinephro
. It's a meditative and calming whole piece of jazz infused music that I can't get enough of. Also,
ERP's Afterimage
album from 2019 - a masterpiece in intergalactic electro.
What's happening in your creative world at the moment?
I've been working on quite a few mural projects this year, so look out for those dropping on my mural portfolio really soon: https://davebain.com/mural-art
Where can we find you?
Portfolio:
davebain.com
IG: @
davebainuk
Cheers, Dave 👋️