Heather is an illustrator, muralist and director of Underbank Studios.
---

Heya Heather. Can you tell us a little bit about your tape and your song selections?

My mix is a homage to growing up on council estates, and looking back with a romantic perspective of how humbled and grateful it has allowed me to be. It's a love letter to being rough around the edges, and northern. The songs I have chosen either reference this idea in the lyrics, in the artists' backgrounds, or they may just be songs that take me back to my 2000s 'chav' youth. All of the songs make me feel intense emotions, like solidarity, or nostalgia.

What direction did you take with your cover art, and what was your process?

I wanted to create an illustration involving high rise flats, having spent my youth in them and being a massive fan of brutalism. I made notes of themes and motifs I wanted to include, which then developed into sketches. The final artwork I created through a mixture of hand drawn textures and digital illustration.

What are your fave album covers, records with a great music and artwork combo, or musical projects with a visual component?

I am a fan of cheesy typefaces, and funky outfits, throw in a badass female and I'm sold. I really enjoy all of Kate Bush's album covers, my favourite being Never For Ever. The record sleeve is shrouded in beautiful folk-like illustrations of characters, with Bush represented as some kind of femme forest witch. If I had a spirit animal this incarnation of her would be it.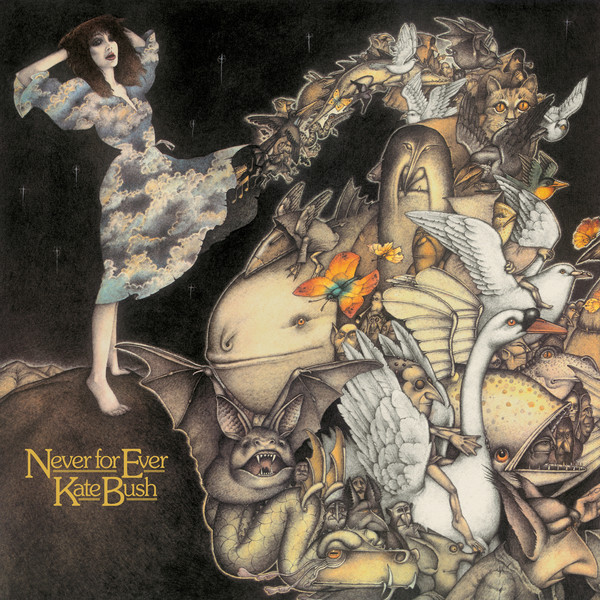 Never For Ever

– Kate Bush

1980, EMI / Harvest

Cover: Nick Price

Art dir: Kate Bush



Another piece of cover art I love is of Kakashi, an electronic jazz album by Japanese artist Yasuaki Shimizu, which was made in the 80s. The bold image of cat is the perfect representation of the album's sounds - sophisticated experimentation and play. I love the textures and composition.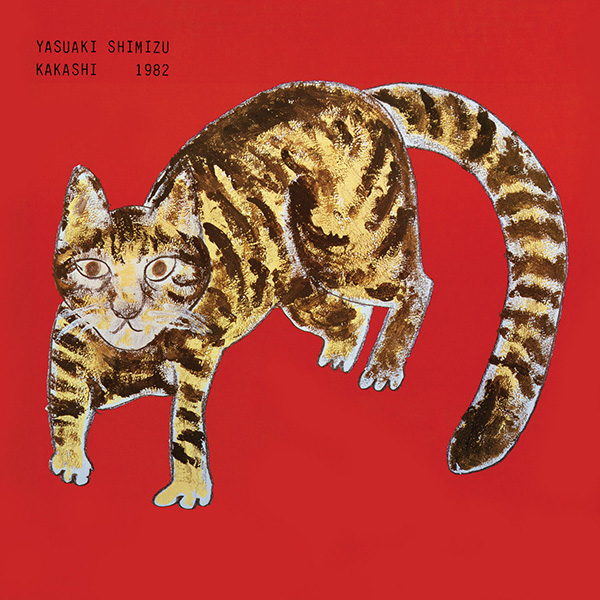 Kakashi

– Yasuaki Shimizu

1982, Better Days

Artwork: Yasuaki Shimizu

I also love the music video for the single "Craziest Things". Which is a psychedelic animation directed and animated by Sacha Beeley for the band Babeheaven.



"Craziest Things" [MV] – Babeheaven
2020, Awal
Dir / animation: Sacha Beeley




What did you listen to growing up?

From an early age I was influenced by my mum's taste in music, like most of us. She would listen to The beautiful south, ABBA and Cher when driving. All artists which I still love to listen to today. I was a Y2K kid so Britney was and will always be an icon to me, I had barbie dolls and T-shirts with her face on. Prior to the age of around 13 / 14 (before I had really developed my own taste) I was listening to a mixture of hip-hop; N-dubz, Nicki Minaj, and pop/ dance music; Cascada, Basshunter, Justin Bieber. There's still a spot in my heart for some of these on occasion when I'm feeling reminiscent. Amongst this, classic psychedelic rock bands like The Kinks, The Beatles, and Pink Floyd were always played. This genre feels so familiar and comforting to me. Growing older I became more and more interested in alternative music and developed an 'indie' taste in rock, and loved bands like Two Door Cinema Club, The Wombats, and The Vaccines. By this point I also had an ever growing collection of Taylor Swift CDs, and of course a predictable, but justified taste in the Arctic Monkeys.

And what's on heavy rotation for you at the moment?

I'm trying to listen to more albums, as listening to music via an algorithm is killing the craft of the album, as their purpose is to be listened to from start to finish. Albums I love at the moment are mostly female artists that empower me to feel like an ethereal goddess. To name a few im loving at the moment:

'1992' by Princess Nokia, 'Planet Her' by Doja Cat, and 'Heaven or Las Vegas' by the Cocktau twins, and 'When I get Home' by Solange Knowles.

I am also loving a mix created by Small Press (Yasmin Lever) for SK1 Records, she has such incredible taste and an ear for curating songs as an atmosphere.

You can listen here. What's happening in your creative world at the moment?

Being out of a studio right now and working from home I'm missing creating larger works like paintings and using my risograph printer. These are things I would like to do as soon as I can get back in the studio. I am also wanting to explore 3D design, and animation through a couple of projects later this year. I am focusing more on collaboration at the moment, and I have a couple of things in the works with Bryony Wong, a jewellery designer, and another project with Daniel Smith, a Manchester based potter. I am Co-founder of Underbank Studios, which is a not for profit community for the arts, and a hub of studios, events and workshops. I am currently working on directing some art workshops in Stockport with the council which I'm really excited about.

Where can we find you?

Website:

heatherchambersart.com

Instagram:

@heatherchambersart @underbank_studios Thanks Heather 👋🏽