Illustrated Tapes 152: I Wanna Be a Cowboy Baby

Curated by Janie Anderson
14.03.22
spoti.fi/3IaM1QS
Janie is an illustrator and paper engineer based in Bristol, UK.
---

Howdy Janie. Can you tell us a little bit about your tape and your song selections?

I am surrounded by sad cowboys, I grew up listening to country music and can't shake it to this day. I too, want to be a sad cowboy and celebrate a wider spectrum of country songs old and new. Whether you be zipping down the motorway in a grey polo or galloping across the open prairie on your trusted palomino, I want everyone to feel a thrill when they hear the familiar twangs of Glen Campbell's guitar.

What direction did you take with your cover art, and what was your process?

I would love to tell everyone I'm a super smooth worker, but really it's a lot of reluctance, Photoshop magic and happy accidents. I like fumbling with different ways of working and have recently wanted to try working digitally. Westerns always have such rich imagery and I wanted to incorporate some of that, sweeping prairie landscapes, cacti and a lone ranger (me).

What are your fave album covers, records with a great music and artwork combo, or musical projects with a visual component?



Port Of Morrow

– The Shins

2012, Columbia / Sony

Artwork: Jacob Escobedo


I used to have a tiny print out of this album cover pinned to my desk at uni, the artist Jacob Escobedo is also a head designer at Cartoon Network and it always struck me how wide you can cast the net of your creative endeavours.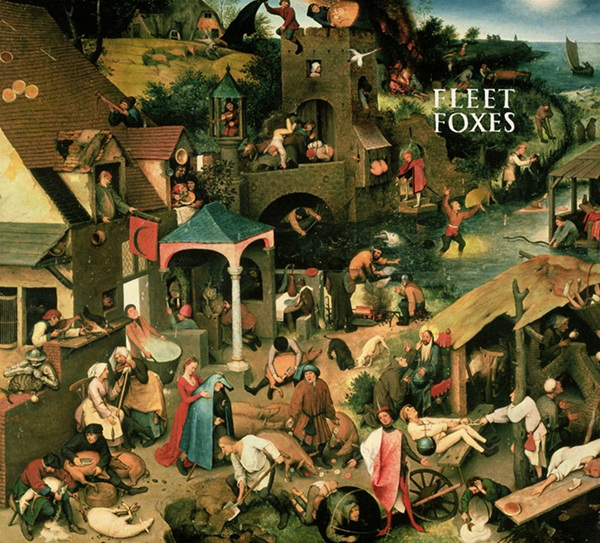 Fleet Foxes – Fleet Foxes
2008, Sub Pop
Artwork: Pieter The Elder Bruegel

This I think will always be a favourite, I have a soft spot for classical paintings being used for album covers and this one Fleet Foxes chose by Pieter Bruegel the Elder is perfect.

(Also wanted an excuse to use the tremendous name Pieter Bruegel the Elder in a sentence)


What a Terrible World, What a Beautiful World – The Decemberists
2015, Captiol Records
Artwork: Carson Ellis


I have a great love for Carson Ellis' art. It makes my heart melt a little thinking about the collaborations between her and her partner Collin Meloy (band member of The Decemberists).
So lovely, it just works.
What did you listen to growing up?
I was raised in a field by a sad cowboy and a reggae loving 90s dad. Torn between the musical influence gained from my parents, and secretly wanting to be goth. I had a lot of angst. A healthy blend of Pixies and Johnny Cash definitely got me through a lot of moping.
And what's on heavy rotation for you at the moment?
Abba Gold
, the only CD I need in my car. When I'm not on a car journey I usually fall into Whitney, Beach House, Mitski and (more recently) Elbow. Moody and woeful are the way to my heart.
What's happening in your creative world at the moment?
I work full-time as a production assistant focusing on paper engineering. I have fun freelancing outside of that as well as dabbling in wonky ceramics. As long as I'm making, I feel quite content.
Where can we find you?
You can find me at
@janieanders
&
janieandersonillustration.com
Catch you later down the trail, Janie
🤠