Inga is an Illustrator from Riga, Latvia, now based in London UK.


* * *

Hi Inga. Can you tell us a little bit about your tape and your song selections?

Since the beginning of the Covid era I've been drinking lots of Corona beer and watching X-Files on loop and now truly I WANT TO BELIEVE in aliens. This mixtape follows the vibes of amazement and surprise from seeing the miracle of aliens in the sky, to being abducted by them.

If you don't shuffle the mixtape and listen to all songs in the order I set them, it will take you through a soundtrack of journey from the mysterious feeling of discovering aliens, to moments of encountering them that will lead to then being abducted and taken to far ends of universe where millions of stars and planets will just pass by the windows of the craft, like in the ending of Space Odyssey, that will intoxicate every human passenger in a rave-like feeling, acting as a disguise for aliens to do some drilling and experimenting on human bodies.

After what seemed endless torture, the aliens will have had enough and the earthlings will be left alone in an exhausted and dazed state floating in zero-G looking at the infinite universe whilst slowly discovering that they have changed. They have become part alien... some might say lizard. There will be a rush of bewilderment and panic attacks within the group of abductees, however, they will eventually embrace the change and return to Earth with new powers and a new mission in life.

What direction did you take with your cover art, and what was your process?

I wanted the cover art look and feel like the emotions that Fox Mulder, or for that matter any true UFO believer like me 🙋, would be struck by when they finally see the spaceship coming to pick 'em up. At least that is what I initially wanted, and it turned out more like my dream aliens that turn out to be every mushroom and are full of sass. Turns out mushrooms are tiny organic satellites/transmision plates to send data about Earth to aliens. The psychedelic shrooms are to receive data, hence you feel so enlightened when you take them - you are intercepting their data streams.


What are your fave album covers, records with a great music and artwork combo, or musical projects with a visual component?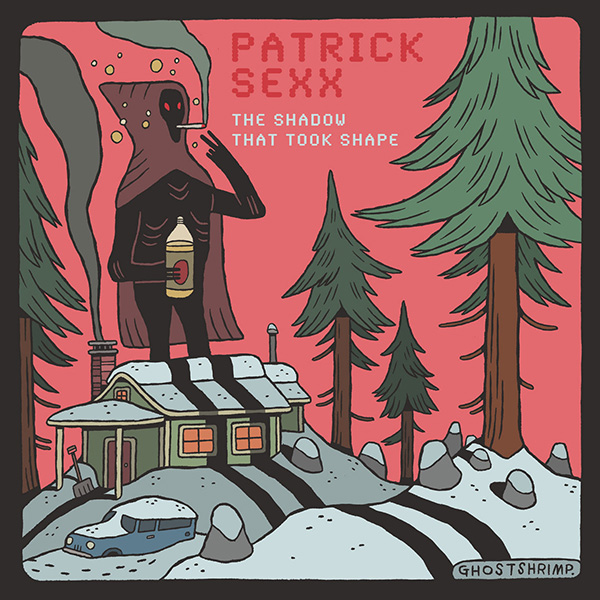 The Shadow That Took Shape – Patrick Sexx
2014, Alpha Pup
Artwork: Ghostshrimp
Absolutely love this Patrick Sexx
The Shadow That Took Shape
cover by Ghostshrimp - the guy more known as one of the background designers and main inspiration for Adventure time. This whole album is worth listening to if you are into my mixtape - it has all those psychedelic and otherworldly properties. One of the songs 'Om Shanti' is actually in the mixtape. This is such a great album to draw to!
You're Dead – Flying Lotus
2014, Warp Records
Artwork: Shintaro Kago

You're Dead!
by Flying Lotus album is undeniably a classic and I feel like I am not too original by picking this as my fav, but it is one of the most influential albums to me, my personality and my art. It opened a whole new world in my imagination and the artwork, that was made by Shintaro Kago - a Japanese manga artist, only feeds into that idea. As a kid and still nowadays I partially live in my fantasies and this album with the music and the visuals (not just the album cover but also the music videos) opened new doors for more sci-fi, psychedelic and mad Ingaland. I wish I could say I have a physical copy of this album, but I don't.
'Love Again' [music video] – Run the Jewels
2016, Mass Appeal
Dir: Ninian Doff

This music video for Run The Jewels – 'Love Again' ft. Gangsta Boo directed by Ninian Doff is genius. It makes me laugh and feel incredibly uncomfortable. There is no illustration aspect here, however it is a video I cannot erase from my memory and if anyone will ask me 'what is the greatest music video you can think of' it will probably be this. I don't wanna say anything more about it - just go watch!
What did you listen to growing up?
Everything! When I was a kid my dad would download on DC++ random western and Russian pop music and then burn it on CDs for me. It was always such excitement to see what random stuff was gonna be on the next CD. Majority of it was Britney Spears, Christina Aguilera, Eminem kinda stuff, as well as Russian entertainment industry icons like T.A.T.U. & Verka Serduchka. But as I got older into my early teens I went through a rock/emo phase as everyone and got weirdly incredibly into Limp Bizkit? Even went to their first reunion gig in Latvia, and Marilyn Manson that I also saw live when I was like 14? Haha seems so weird when looking back at that! Eventually all of that was replaced by hip-hop, rap and electronic music like The Prodigy and FlyLo that eventually lead up to inspiring the work I do these days.
And what's on heavy rotation for you at the moment?
Recently, I have been finding myself shuffling everything from Cream Soda, Kedr Livanskiy and Channel Tres. I can't seem to have enough of Lil Nas X song 'Montero'. It might be my most played song on my Spotify ever? An absolute ear tickling experience is also 'The Bells of Mist' by Norwegian DJ Skatebård, that I just keep adding to my queue all the time.
What's happening in your creative world at the moment?

This past year has been very busy in terms of personal work and it feels like I have finally found topics and vibez that I just can't get enough of drawing. I recently started doing some VR sculpting and, I know, it's very different to my normal #vector style, however it has been so dope to see my characters come to 3D world. To see those check my Instagram. By no means I am not planning to go full on 3D artist but it has been a dope thing to do.

In other news, I did an illustration for WIRED US that is going to be in the October issue. WIRED was one of the reasons why I even chose to turn my path to graphic design and eventually illustration, so it was a dream come true kind of a thing! As well as I just made another massive mural for Benito's - this time in Oxford Street.