Illustrated Tapes 125: Journey Through Latin America
Curated by Marianna Madriz
28.08.21
spoti.fi/3DrZpim
Marianna is an illustrator from Valencia, Venezuela, based in London, UK.


* * *

Hey Marianna. Can you tell us a little bit about your tape and your song selections?

Hey Sam! This tape is my dream trip: a long and upbeat journey through Latin America.

Each song is by an artist or band native to each country (a total of 21) and they're arranged to mimic the route I'd take in this travel project. Our trip starts in La Patagonia (Argentina), twirls all the way around South America by bus, takes a boat to the Caribbean, drives back again through Central America, and culminates in Mexico.

These tracks transport me to the beach, a party, a street full of people, the jungle, the Andes, a loud and chaotic bar, a family gathering, and so many other sceneries. Some of these are classics I listened to growing up, and others are gems I discovered (or rediscovered) in recent years. I tried to curate a very diverse selection of musicians and genres, mixing the traditional with the contemporary. It's meant to be enjoyed by everyone, no matter if they understand Spanish or not.

What direction did you take with your cover art, and what was your process?

I was very inspired by Venezuelan artist Marisol Escobar's "The Family". I wanted my cover to be a sort of collage as well as a jigsaw puzzle, putting together different scenes, memories and symbols that came to mind when listening to all the tracks together.

It's pretty much a visual scrapbook. When I think about Latin America I see nature, closed doors and windows, beauty, cities on hills, tradition, matriarchy, religion, home. They're different pieces, but they are also common threads that unite this region and make it the unique culture it is. The process was pretty intuitive, sketching and illustrating everything digitally.


What are your fave album covers, records with a great music and artwork combo, or musical projects with a visual component?

Anyone who knows me knows that I'm a huge Joanna Newsom fan, and Ys is easily one of my favourite albums of all time. I think the cover is as beautiful, melancholic, dramatic and cryptic as the songs in this album; to me it's perfect.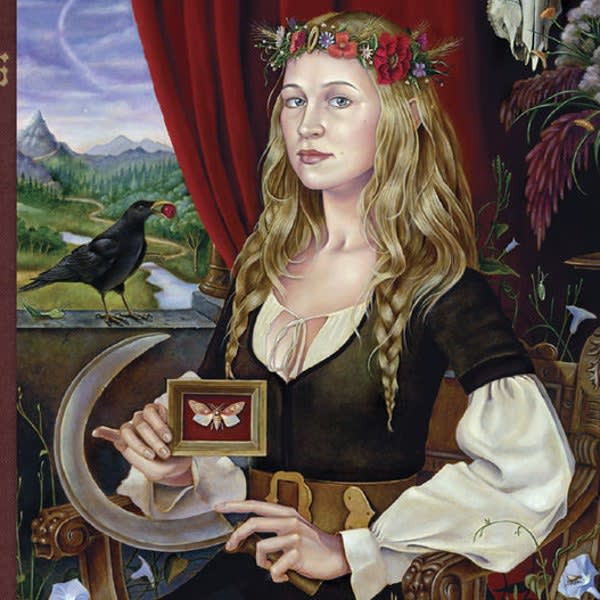 Ys – Joanna Newom
2006, Drag City
Painting: Benjamin A. Vierling


Generally I'm drawn to really playful album covers. And my favourite music videos are by Kate Bush - they're just so theatrical and emotive. I watch them every so often, wishing I could see her perform live.


Fuzzy Felt Folk – Various
2006, Trunk Records
Artwork: Paul Flack


'Running Up That Hill' [music video] – Kate Bush
1985, Emi
Dir: David Garfath
Coregraphy: Diane Grey


What did you listen to growing up?
My parents used to collect the
Now!
compilation albums, so our road trips to the beach were full of Brit pop on repeat. My dad also had a guilty pleasure of listening to divas, so that meant quite a lot of Shania Twain, Gloria Estefan and Selena.
As a teen I was really into Shakira, and even more into Green Day and Gorillaz. Thanks to my older sister my music taste changed and she got me into a more varied mix of genres.
And what's on heavy rotation for you at the moment?
I'm currently learning to play the cuatro (a Venezuelan guitar) so I've been listening to a lot of latin folk in an attempt to learn chords. A lot of these songs are by Natalia Lafourcade (featured last track on the tape) who is constantly in my radar. I love her voice, and I always find new songs from her to fall in love with.
I've also been listening to Jim White after watching the documentary
Searching for the Wrong Eyed Jesus
(really recommend it!)
What's happening in your creative world at the moment?
Two children's books I've illustrated since last year are coming out next week. I've also been working on a new illustration class - my first one in Spanish, which is very exciting! If all goes well it will be available on
my Skillshare page
later this year.
Aside from this I've taken a very needed summer break from commissions. I've been trying to use the time to do personal work, which I find really hard to do. I'm taking it slow though, allowing myself to have fun with paint and recharging batteries for this autumn.