Jaimee is a designer and illustrator based in Wiltshire, UK.


* * *

Hey Jaimee. Can you tell us a little bit about your tape and your song selections?

Hiya! This tape is a sugary sweet energy booster of in-your-face bangers interlaced with intervals of chilled tracks, all with a connecting thread of glitchy experimental beats. These are all songs by some of my absolute favourite artists, and I think each one puts you in a positive mindset, ready to get inspired and keep moving forward.

What direction did you take with your cover art, and what was your process?

I wanted to create something super bright and fun to go along with the vibe of the playlist. I envisioned the tape as an energy drink, with bubbles and lightning zaps jumping out around the image. I also wanted to give it bubblegum pop energy, so it is super saturated shades of pink and purple, with a cute Y2K inspired fairy character in the center.


What are your fave album covers, records with a great music and artwork combo, or musical projects with a visual component?

I am the biggest fan of KPop music. The musical and visual elements of each era are always so strong, and work to enhance each other.
One of my favourite ever KPop comebacks is Wonder Girls - 'Why So Lonely'. The visual themes are a play on psychedelic kitschy Americana that is just so perfect! (and so is the single!)

'Kindred Spirit' [music video] – Faux Real
2016, JYP Entertainment
Dir: Lumpens


I also adore Lady Gaga's Chromatica, and all the graphics, imagery and world-building that has come with it.The 'Stupid Love' single cover is what dreams are made of. Fly me to Chromatica ASAP.
'Stupid Love' [single] – Lady Gaga
2020, Interscope
Artwork: Studio Pending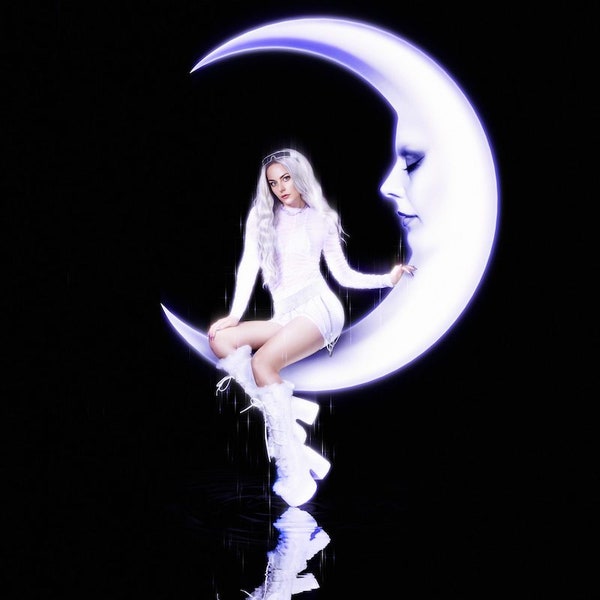 Reflections – Hannah Diamond
2019, PC Music

And I have so much love for the artwork of Chloe x Halle's 'The Kids are Alright'. It's this beautiful mix of photography and embroidery and it totally encapsulates the creative energy and unique nature of the album.
The Kids Are Alright – Chloe x Halle
2019, Parkwood / Columbia
What did you listen to growing up?

My childhood was pure pop goodness- anything that was popular at the time. I remember dancing and singing all day every day to MTV with my sister- Britney, Christina, Sugababes to name a few of the greats! When I was a teenager, I was really into indie music and got the opportunity to see lots of live gigs as bands were always touring the area which was so much fun!

And what's on heavy rotation for you at the moment?

Caroline Polachek's 'Bunny is a Rider' is an absolute tune, SEVENTEEN's 'Anyone' is so addictive, and ALWAYS Chloe X Halle's Ungodly Hour album.


What's happening in your creative world at the moment?

I am currently working as a greetings card designer, so I'm spending most of my time drawing Christmas trees which is great! Otherwise I am either working on freelance work or making more illustrated stationery and prints for my online shop.