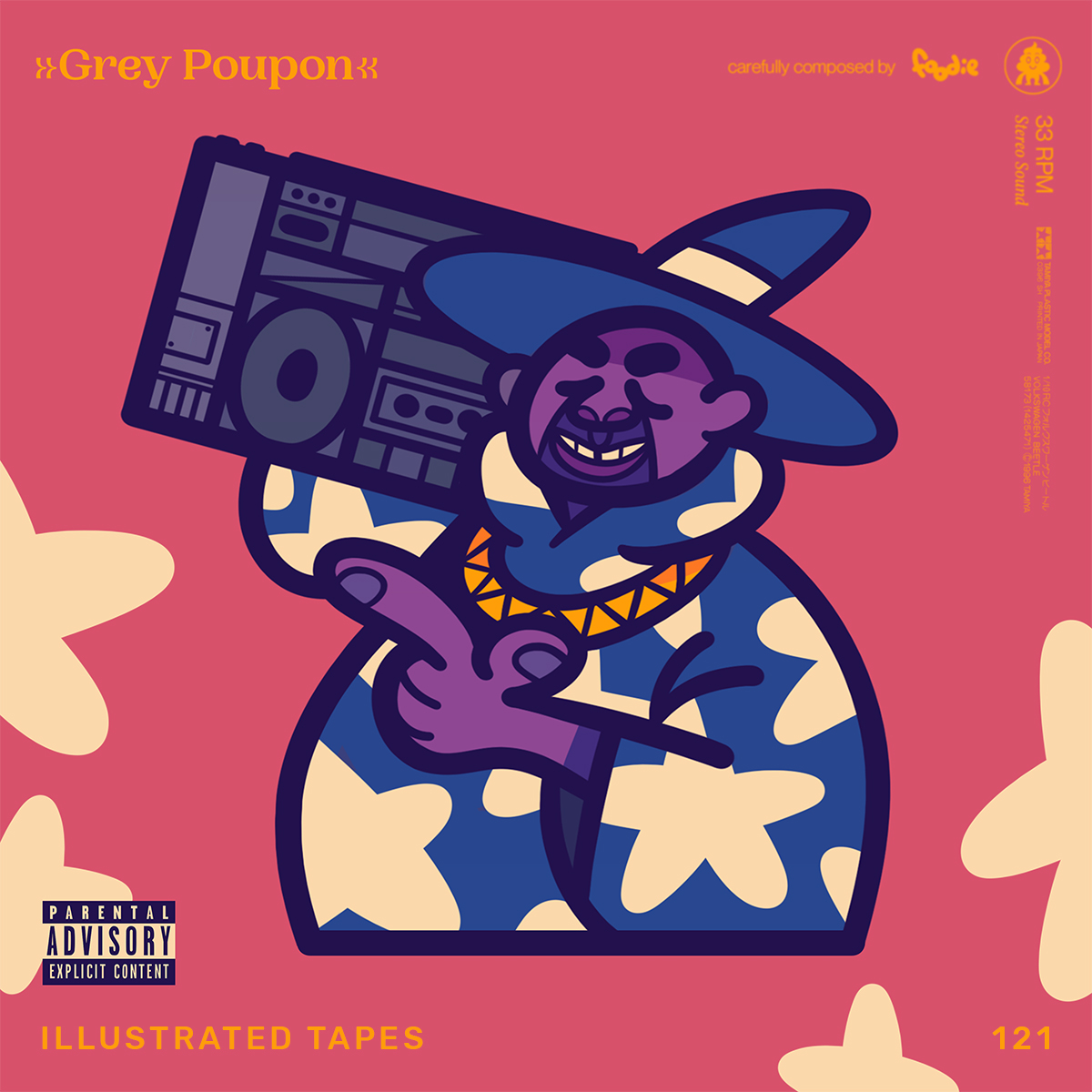 foodie is an illustrator and graphic designer from Bochum, Germany, currently based in Dresden.


* * *

Hey foodie. Can you tell us a little bit about your tape and your song selections?

No problem dawg! My mixtape compiles rather rare hiphop tracks, German underground rap classics from my hometown and beats for geeks. I wanted to pay tribute to the music I've listened to growing up and to the wide-spreading culture surrounding it. Do you have any Grey Poupon?

What direction did you take with your cover art, and what was your process?

The cover shows the Grand Wizard Theodore, casually checking out and rocking to some of his favorite tunes from the corners of NY and the world. GWT is said to be the inventor of the scratch itself! Can you believe that?


What are your fave album covers, records with a great music and artwork combo, or musical projects with a visual component?

Nostalgia-wise, my fav album covers have to include Madvillainy by Madlib + MF DOOM, as it embraces a sleek and simple design, plus the mysterious appearance which is D. Dumile himself.

For more modern classics, it's the covers of Morlockk Dilemma/Morlockko Plus, a german synthie-genius-beatmaker and general rap behemoth. Most of them were done by one of my dearest friends, Ralph Niese, who just recently passed away at the end of 2020. RIP RN.
Madvillainy
– Madvillain
2004, Stones Throw Records
Design: Jeff Jank
Photography: Eric Coleman
Kampf Um Lesbos
– Morlockko Plus
2019, Mofo Airlines
Artwork: Fistful Fumetti / Ralph Niese
What did you listen to growing up?

In second grade, I got two CDs from my grannie: The Eminem Show by Eminem (ofc) and Reanimation by Linkin Park. From there, I digged through every rap/hip-hop album i could find, starting from G-Unit to Das EFX and all the classics like NAS – Illmatic, Dr. Dre – The Chronic etc. and a lot of Deutschrap.

And what's on heavy rotation for you at the moment?

At the moment, I'm enjoying a lot of movie scores and bossanova-kinda funk-pieces. Honestly, check out Piero Umiliani, Dorothy Ashby and Goblin.


What's happening in your creative world at the moment?
With my crew, the Kotburschi Kollektiv (which roughly translates to Doodooboy Collective) I'm working on several animated music videos, mostly for the landscape of German rap. The latest videos include 'Fatoni + Edgar Wasser', 'Gossenboss mit Zett', 'Pilzkultur'.