Illustrated Tapes 120: The Bricabrac Disco

Curated by Lauren Veevers
22.07.21
spoti.fi/36TjfEj
Lauren is a a freelance Illustrator and animator based in London.

* * *
Heya Lauren. Can you tell us a little bit about your tape and your song selections?
This tape is an ode to Bricabrac, a night me and my dear friend, (very talented illustrator and animator
Alice Mae-Mayall
) used to run (and hopefully will do again).
Like a musical version of bric-a-brac stall, this playlist is a big old mix of songs from here, there and everywhere. They aren't really a set genre, or from a set time - much like a dusty old antique teapot and an unopened McDonald's toy next to each other at a bric-a-brac stall. It's just a collection of unrelated songs that make you want to dance and smile and have a good fun time.
What direction did you take with your cover art, and what was your process?
This playlist makes me want to dance, even when I can't. So I listened to it and danced with a pen instead. A big busy scene full of party animals felt like the only way to go.
What are your fave album covers, records with a great music and artwork combo, or musical projects with a visual component?

Am I allowed to say the moment when Kelly tried to text Nelly on Excel in the 'Dilemma' video? Best visual component to a song I've ever seen.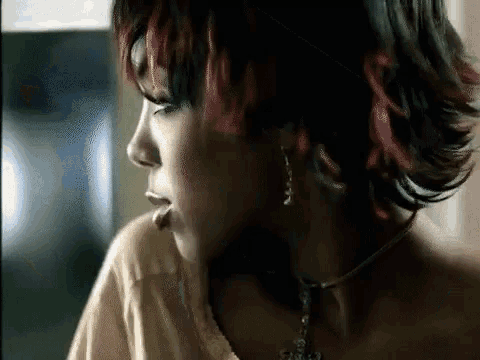 'Dilemma' feat. Kelly Rowland [music video]
–Nelly
2002, UMG
Dir: Benny Boom
What did you listen to growing up?

When I had it my way it was just 24/7 Avril Lavigne whilst I stomped around with a different coloured Converse on each foot. I usually didn't have it my way though, and instead would be stuck in the back of the car for five hours of Ivor Cutler. Then if we were good we would be allowed to play 'Hit Me With Your Rhythm Stick' really loudly.

And what's on heavy rotation for you at the moment?

About seven years ago I started putting together monthly playlists that I have stashed away in a massive top secret folder on Spotify. I love that I can just transport myself back to April 2017 whenever I like, and that July 2021 is going to be musically immortalised for 58-year-old me to revisit as well. When future me does decide to take a trip down memory lane to now, I'll be greeted with a nice selection of music that flips from Vashti Bunyan to Dag Savage to Adrianne Lenker to Sudan Archives. I also really can't stop listening to Real Girl by Mutya Buena (lol).


What's happening in your creative world at the moment?
I'm currently working on some animations for a children's charity - not sure how much I'm allowed to say but it's fun. I've also just come to the end of a pretty long project animating monologues and archive material for a bookshop which has been really great too.