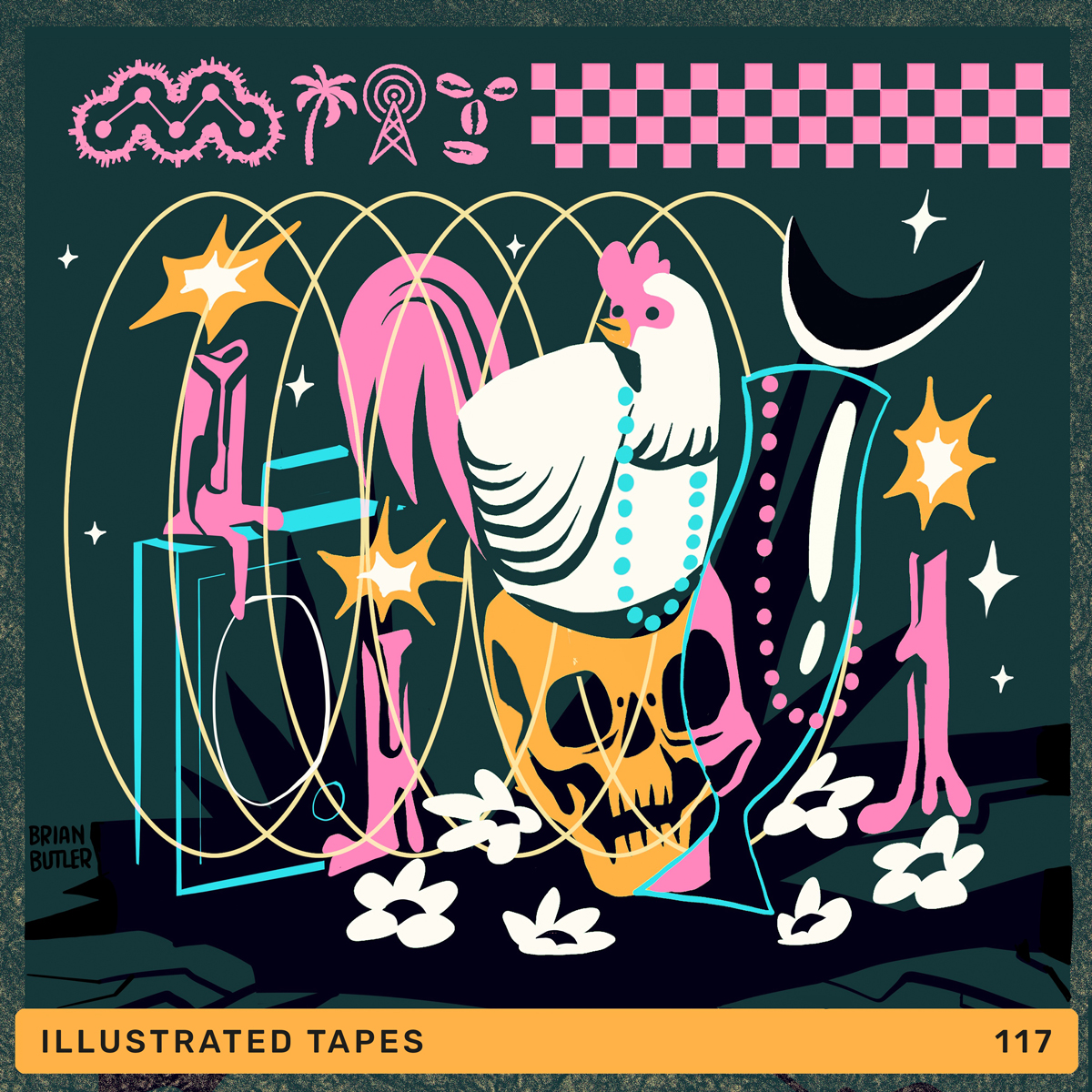 Illustrated Tapes 117: Magic Frequency

Curated by The Upper Hand Art / Brian Butler
02.07.21
spoti.fi/3AkD5FT
Brian Butler aka The Upper Hand Art is a creative guy from South Shore Massachusetts, currently residing in Miami Florida, USA.

* * *
Hey Brian. Can you tell us a little bit about your tape and your song selections?

Magic Frequency's origin point is unknown. The tracks ebb n flow like lapping waves of guitar chuds and drum machines; with fragments of sonic debris floating throughout the mix. The broadcast equipment is probably breaking, but its distressed transmission weirdly unifies this collection of songs.


What direction did you take with your cover art, and what was your process?

The cover depicts a Bermuda Triangle still life. It features the sonic rings of a frequency powerful enough to scramble radar and sinks ships, paired with a magic curbside Miami botanica offering. 



What are your fave album covers, records with a great music and artwork combo, or musical projects with a visual component?


Guero – Beck
2005, Interscope
Artwork: Marcel Dzama



Beck is awesome, plus I was already a freak for Dzama's artwork. Dude built a remarkable career from an old portfolio of root-beer-tinted watercolor drawings.
"Caged / Sick Punk" [single] – Hoax
2013, La Vida Es Un Mus
Artwork: Heather Benjaminb
I first encountered a shirt with this art, so it's a rare modern instance of being enchanted by the artwork first, then hearing the record second. It's two tracks are raw and unforgiving, and a perfect accompaniment to Benjamin's signature artwork. I used to love trusting the artwork of a show flyer for a good night, or letting great album artwork determine which CDs were worth my lunch money.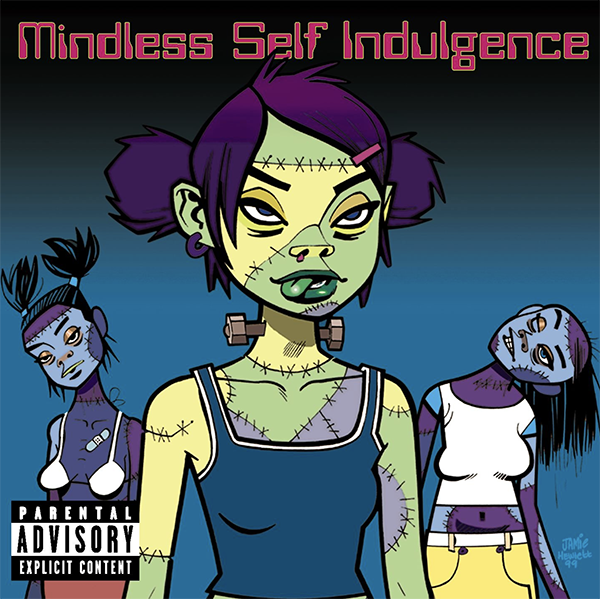 Frankenstein Girls Will Seem Strangely Sexy – 
Mindless Self Indulgence
2000, Elektra
Artwork: Jamie Hewlett


Jaime Hewlett drew this long before Gorillaz, probably around late Tank Girl days. I bought the cd because the artwork was sick. It was immediately solidified as one of my top albums ever.
Wakin on a Pretty Daze – 
Kurt Vile
2013, Matador
Artwork: ESPO

Painted by Steve ESPO Powers in Fishtown, Phillidephia. Each track is locked up with one of ESPO's signature sign graphics. It's brilliant also from a marketing standpoint, as it subsequently became a folk landmark. 


What did you listen to growing up?

A very specific trajectory of Weird Al and White Zombie to WWF ring music, WBCN rock radio to the CKY2K soundtrack, ska-punk metalcore screamo Warped Tour bands to small-capacity shows for art school indie acts, then ultimately Limewire pirating software unlocking everything else.

And what's on heavy rotation for you at the moment?

Generally I'm listening to WVUM or WDNA radio in Miami. I just wrapped a branding project for a techno/house festival, so I listened to a lot of Boiler Room sets. I default to NTS or Chances With Wolves when I need some more eclectic background sounds.


What's happening in your creative world at the moment?
I recently facilitated a couple grindcore tracks to accompany my ocean advocacy mural in St Pete, Florida. The imagery took on an aggressive heavy metal aesthetic, and it felt fitting to pair it with some music to amplify the message. Ale Campos and Eric Hernandez stepped in to make some brutal tracks. I've always made visuals for musicians but this was my first time actually releasing something.
carbonpunishment.bandcamp.com
I get out to concerts regularly also. Typically I'll have a sketchbook to document the show through illustration. I call this project Show Drawn, and I have been practicing the past 10+ years.
instagram.com/showdrawn