Katya is an Illustrator and rugmaker from the seaside town Eastbourne, but has found her home in Stepney Green, East London.
Hi Katya. Can you tell us a little bit about your tape and your song selections?

Hey! I wanted to create a tape that showcased fingerstyle guitarists that continue to inspire me. Over the lockdowns playing guitar was really beneficial to my mental health and it was my way of escaping the world. I started playing when I was around 9 years old but it took me over 10 years to fully discover the music that I wanted to play, so by making this playlist I wanted to group together and share these artists in one place as a nod to that and to hopefully inspire others.

What direction did you take with your cover art, and what was your process?

With my cover art I wanted to create a playful surreal sculpture scene made up of abstract forms with visual nuances to the title of my tape. Once I had sketched out the composition, I created the artwork in photoshop and played around with different effects and layer masks to create a grainy effect.


What are your fave album covers, records with a great music and artwork combo, or musical projects with a visual component?


I love the artwork of Roger Dean, especially the album cover he did for Tales from Topographic Oceans for the band Yes. I'm a big fan of prog rock album covers as they often went full blown surreal landscape and that is the kind of artwork that really inspires me.


Tales from Topographic Oceans – Yes
1973, Atlantic
Artwork: Roger Dean


One of my favourite music videos is 'Crackerbox Palace' by George Harrison; I love the whimsical feeling and quirkiness of it.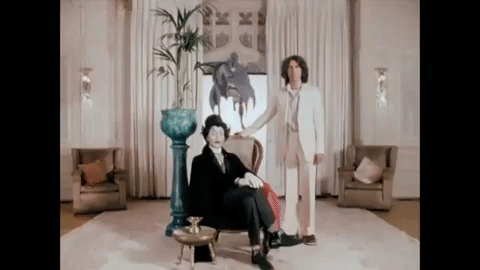 'Crackerbox Palace' [music video] – George Harrison
1976, Dark Horse
Dir: Eric Idle
What did you listen to growing up?

Some of my favourite childhood memories are of listening to my parents CDs in the living room and dancing around with my sisters. I loved listening to The Zombies, Supertramp and David Bowie to name a few. My family are all trained musicians as well so classical music was also a big part of the music I heard growing up. When I was a teenager, I discovered a band called the Handsome Furs, and their music initiated my love for post punk and new wave music.

And what's on heavy rotation for you at the moment?

I've been listening to a lot of 80s music this year and in the past few weeks I've got really addicted to the Italo Disco genre. There's something slightly cheesy but also really fun and goofy about it that I really love.


What's happening in your creative world at the moment?
The past couple of months I have been focusing on my rug making, and working toward making larger scale work. My process is somewhat backwards in the way that I work very spontaneously, so often I pull things from my brain before I've even been able to figure out where it's come from/what it means. From what I can tell my current work is heavily inspired by Canary Wharf which is the surrounding area of my studio. I will be sharing this new work on my instagram in the next week or so.
Where can we find you?
︎
katyarogers.com
︎
@katya_rogers
︎
katyarogers.shop
Thanks, Katya!
TRACKLIST
Stephen Stills - Wooden Ships - Demo / Nick Drake - Things Behind The Sun / Leo Kottke - Snorkel / Etta Baker - Railroad Bill / Ellen McIlwaine - Can't Find My Way Home / John Renbourn - Cocaine / Brigid Mae Power - Don't Shut Me Up (Politely) / Ry Cooder - Drume negrita / Jorma Kaukonen - Genesis / Etta Baker - Careless Love / Bruce Cockburn - King Kong Goes To Tallahassee / Memphis Minnie - Me And My Chauffeur Blues / Marisa Anderson - Deep Gap / Leo Kottke - Vaseline Machine Gun / Sarah Louise - Waterways / Bert Jansch - Poison - 2015 Remaster / John Fahey - Wine And Roses / Link Wray - Fire And Brimstone / John Renbourn - Bermuda Triangle Exit /Ry Cooder - Paris, Texas︎