Vanessa is an illustrator from London, currently based in Bristol.

Hey Vanessa. Can you tell us a little bit about your tape and your song selections?

'In-Between Places' has a bit of a melancholic vibe - the sitting at home alone, super late at night type mood. I'd been reading about thin places in Celtic mythology, which are places where the fabric between worlds are thinner, allowing them to converge. It made me think of that time at 3am, when it's dead quiet outside and you're still awake, feeling that simultaneously everything and nothing could happen.

I've included tracks from Cocteau Twins, Beach House and Weyes Blood, which tapers into downbeat ambient tracks from Nils Frahm and Jon Hopkins as the playlist progresses. I also really wanted to add in Enya but I'll have to save her for another mix...

What direction did you take with your cover art, and what was your process?

When I'm working on illustrations that are more reflective and atmospheric, I lean towards this sort of music a lot - I love haunting feminine voices. I wanted to explore duality which tends to crop up from time to time in my work, and also to play around with the use of the word 'In-Between.'

With my process I tend to thumbnail a few rough ideas, then head into Procreate to work up the rough. When I'm feeling very indecisive I'll get Photoshop involved and play around with the colours until they're feeling 'right.'


What are your fave album covers, records with a great music and artwork combo, or musical projects with a visual component?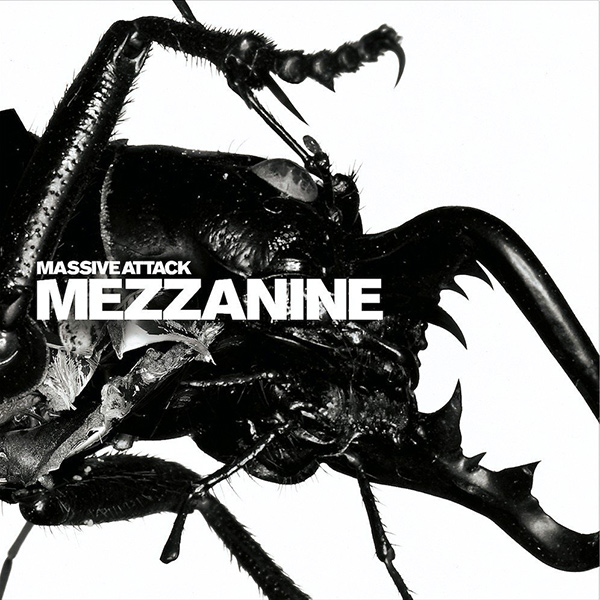 Mezzanine
– Massive Attack
1998, Circa / Virgin
Artwork: Robert Del Naja (aka 3D), Tom Hingston, Nick Knight

The first thing that came to mind was Massive Attack's Mezzanine album - the one with the huge black stag beetle. My dad had the album on minidisc when I was a kid, and I remember being drawn to it, wanting to listen to it simply because of that creepy beetle. I ended up buying my own copy for a fiver at HMV which was the first album I ever bought.


'Too Long' [
music video
] – Daft Punk
(Taken from:
Interstella 5555: The 5tory of the 5ecret 5tar 5ystem
)
2003
Dir: Kazuhisa Takenouchi
Prod:Toei Animation

I also remember getting pretty obsessed with Daft Punk's Interstella 5555, that one magical year my family had Sky TV with all the music video channels. I loved how the album was used to create this long musical narrative, broken up into self contained music videos.


Punisher
– Pheobe Bridgers
2020, Dead Oceans
Photography: Olof Grind

More recently, I love the photography used for Phoebe Bridger's Punisher - it's an amazing shot by photographer Olof Grind which hits all the right moody landscape notes.

What did you listen to growing up?

I listened to a whole mix, from jazz to classical. Weirdly enough I remembered getting a box set of opera tapes for Christmas which I must have asked for at some point? Either way, I'm not an opera fan now... Otherwise, I was (and still am) a massive Radiohead fan, which has endured through my consequent nu metal and folk music phases.

And what's on heavy rotation for you at the moment?

Recently I've been obsessed with Avalon Emerson's remix of Astra's 'Anywayz' which is such a tune. I've basically been listening to a lot of upbeat music after working on this playlist, like 80s Japanese city pop, to keep me going during the working day. I find that I tend to listen to playlists to match my mood more than full albums, which I feel is a bit of a bad habit that I've gotten into.


What's happening in your creative world at the moment?

I've been working on some new personal projects for my portfolio, which I'll hopefully be adding to my website very soon! Otherwise I've been working on fun editorial illustrations for magazines like Counterpoint and working with a local charity for their mental health awareness campaign.


Where can we find you?
You can find me on Instagram (@
vloveg
), Twitter (@
vclovegrove
) and my website
vanessalovegrove.co.uk
Thanks, Vanessa!
TRACKLIST
Weyes Blood - In The Beginning / Cocteau Twins - Blue Bell Knoll / Beach House - Lemon Glow / Josh Alexander - Winter Garden / Puma Blue - Sheets / Mr Twin Sister - Kimmi In a Rice Field / Sam Gendel - Sustain / Boards of Canada - Zoetrope / Roberto Musci - Lullabies... Mother Sings... Father Plays... / TORRES - Three Futures / Kelsey Lu - Dreams / Nils Frahm - Them / Ted Lucas - Plain & Sane & Simple Melody / Arthur Russell - Losing My Taste For The Night Life / The Bulgarian State Radio & Television Female Vocal Choir - Kalimankou Denkou (The Evening Gathering) (solo:Yanka Roupkina) / Jon Hopkins - Dawn Chorus ︎