🎵 IT110:: Gurlz are nice 🍓🍊
✏️ Deepti Sharma
🗓 14.05.21
Deepti is an animator/iIllustrator person currently residing in Goa, India.


Hi Deepti. Can you tell us a little bit about your tape and your song selections?
'Gurlz are nice' was born in March 2020, when I was drowning in the music of a girl I really liked. It was around the time I 'came out' to myself, and I was listening to a lot of queer music, and giggling, and just feeling joyful, even though the rest of the world was going to shit and there was a lockdown which had just been announced. I've selected songs which capture how I was feeling when I was discovering how exciting it is to finally admit to myself that I like girls and how pretty they are.
What direction did you take with your cover art, and what was your process?
I just thought about two girls in love, and just lying on the grass together, happy. That is also the feeling I got from some of the songs on the playlist. It's also the picnic in my head with the girl I really liked. That didn't go anywhere, but I think I really appreciate how she had mastered the art of making a nice playlist, and this is like, a drawing which would go really well with some of her playlists.
What are your fave album covers, records with a great music and artwork combo, or musical projects with a visual component?

Starry Cat by Starry Cat is my favourite album cover ever I think, and I love the album too, it is a warm hug. I love how simple it is. It makes me happy.


Starry Cat
– Starry Cat
2013, Birdtapes
I also love
Fuzzybrain
(by Dayglow)'s album art. It makes me wish I made that! I actually wanted to go the plasticine direction for this mixtape, but that didn't really work out.
Fuzzybrain
– Dayglow
2019, Acrophase Records
Artwork: Sloan Struble
I love Iron and Wine's album art for
Our Endless Numbered Days
. It inspired a film I worked on in my second year of college. This was before I figured out I liked girls, and the film had two girls lying in a field of grass stargazing, and in my denial I was VERY INSISTENT that they were just friends. I feel like the artwork I made is a revamp of that film. I have come a full circle.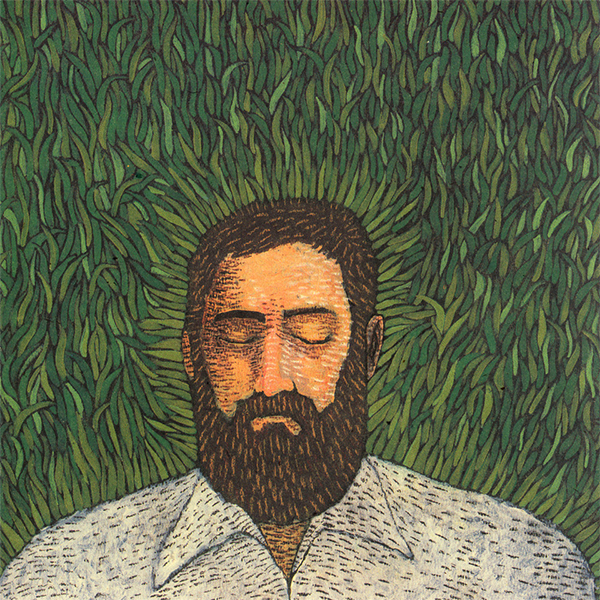 Our Endless Numbered Days
– Iron + Wine
2004, Sub Pop
Artwork: Sam Beam (Iron + Wine)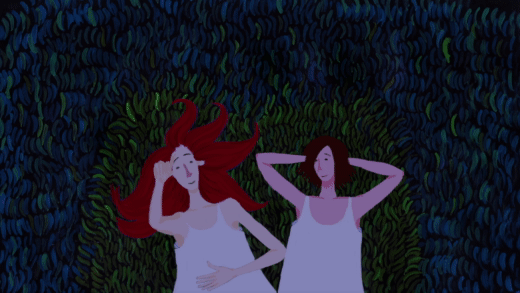 Halcyon [Animated short]
– Deepti Sharma
2016
What did you listen to growing up?

I think it was Hindi music for the longest time. Jab We Met, Delhi 6 have some beautiful songs. There wasn't as much music in my house as I would have liked when I was growing up, my parents would mostly play music out loud only on road trips. I had a small cassette player, and would have the radio on most of the time, and would record over cassettes when they played songs I liked. Music helped me live inside my head.

My best friend introduced me to a lot of really nice music. I was also one of the teenagers who grew up with Taylor Swift, and I found myself returning to her a lot for comfort this last year.

And what's on heavy rotation for you at the moment?

Phoebe Bridgers. A playlist of my 8th grade music because the nostalgia is comforting right now. I also cannot wait for King Princess's new album to come out. I am also very proud of the playlist I made and am listening to that on loop.


What's happening in your creative world at the moment?

It is unfortunately a little bleak right now. I think I am using this time to just rest and be, and absorb. I am trying to read more. I am journaling and falling back in love with my sketchbook. It is a tough time to create, and I am trying to be patient with the creating. I hope to work on an animated film or a graphic novel soon, I have a very nascent idea and I am not sure what form it will take.


Where can we find you?
I am on Instagram as @
deep.teee
. I am yet to work on a website.
Thanks, Deepti!
TRACKLIST
Mabel Ye - Song of Spite / Frankie Cosmos - Outside with the Cuties / Adventure Time - Monster (feat. King Princess) / The Scary Jokes - Friends With You / chloe moriondo - Manta Rays / Mitski - Strawberry Blond / Frances Forever - space girl / King Princess - Hit the Back / Janelle Monáe - Pynk (feat. Grimes) / Lemondrop - Strawberry Wine / girl in red - watch you sleep. / The Japanese House - Lilo / Clairo - Flaming Hot Cheetos / WILLOW - PrettyGirlz / King Princess - Pussy Is God / St. Vincent - And Then She Kissed Me / LP - Girls Go Wild / Holly Miranda - All I Want Is to Be Your Girl / The Regrettes - Pumpkin / Phoebe Bridgers - ICU ︎