🎵 IT108: A Nostalgic Hug
✏️ Matt Partrdge
🗓 01.05.21


Matt is an animation director and designer whose youth was spent mostly in the small town in Wiltshire but now resides in East London.


Hey Matt. Can you tell us a little bit about your tape and your song selections?
Sure. A few years back I got really bored of listening to the same old stuff and decided to go looking for some new music. I listened to random bands on youtube, used the 'Discover' feature on spotify, looked up lists on websites and eventually made a new playlist, which I listened to obsessively.
Soon I started to notice that a lot of the new tracks I added reminded me of the kind of thing I listened to in my teens, a sort of americana fun happy indie vibe, with some surprises thrown in. The sort of music you'd find on a movie soundtrack from a 90s or early 2000s teen comedies.
I've kept these playlists up every month and during the lockdowns they've become a real comfort to me, like a nostalgic hug of new bands and artists to get me through the stress and monotony.
This mixtape is made up of some of the tracks that have brought me the most joy.
What direction did you take with your cover art, and what was your process?
I went back and forth with a few ideas for this album cover but I knew I wanted to get across the bright and happy tones of the music it features, along with the good vibes I get from each track.
I tend to sketch a lot in sketchbooks, then, when I start to feel like I'm getting somewhere, I'll bring it into Photoshop and play with it some more. Colours are always tricky, but I just play around until I feel they're working together. As you can tell I love bold colours!
What are your fave album covers, records with a great music and artwork combo, or musical projects with a visual component?

Green Day's Dookie brings back so many memories and the album art by Richie Bucher is great. I love illustrations with loads of small details.


Dookie –
Green Day
1994, Reprise Records
Artwork: Richie Bucher
I bought Beck's 2006 album The Information when it first came out. I really love Beck's music and the idea you could create your own unique album cover using the sticker sheet provided was so cool. Rather predictably I did nothing with my album cover, I just left it blank. I guess I was too afraid I wouldn't be happy with my initial sticker placements. This is why I never got a tattoo.

The Information
– Beck
2006, Interscope
Artwork: Mat Maitland
Being an animator I thought it was important to have a few animated music videos.
I love the song 'Fight of Everything' by The Leisure Society and the music video that came with it. It was made by the wonderful folk at
Persistent Peril
. This video has everything, great design, amazing animation and really funny visuals.
'Fight of Everything' [
music video
] – The Leisure Society
2013, PIAS / The Orchard Music / Full Time Hobby
Dir: Persistent Peril
This is a classic from the amazing Canadian animator Cordell Barker. Wonderful animation and that song will probably loop round your head now til your deathbed. Sorry.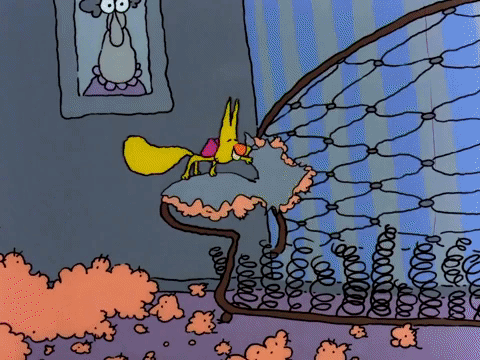 'The Cat Came Back' [
animated short
]
1988
Dir: Cordell Barker
When I was a kid one of the first albums I owned was a cassette of
The Simpsons Sing the Blues
which featured some really great originals and covers of Blues songs, all sung by the cast. The song Deep Deep Trouble is really fun and written by Matt Groening and Jazzy Jeff I love all the squishy animation and mad camera angles in the music video.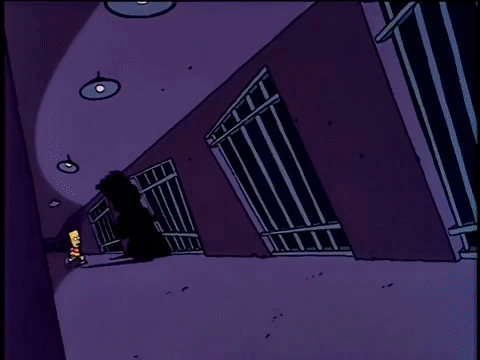 'Deep Deep Trouble' [
music video
]
1990
Dir: Matt Groening
What did you listen to growing up?
I listened to a lot of Billy Joel, John Lennon, Squeeze and Madness on all our long car journeys as a kid (
Hollie Fuller's Dad Music mixtape
was very on brand for my Dad too!)
In my teens there were lots of American indie/rock bands - Ben Folds Five, Greenday, Red Hot Chilli Peppers and New Radicals, basically all the types of bands you found on movie soundtracks from that era.
And what's on heavy rotation for you at the moment?
Other than my monthly mixtapes, I've been enjoying the new music from Lianne La Havas, Courtney Barnett, Another Sky, Pillow Queens, Sudan Archives and Bombay Bicycle Club.
And of course listening to the Illustrated Tapes everyone creates! They're a great way of finding new stuff.
What's happening in your creative world at the moment?
I've been trying to do as many personal projects as I can fit in. I've also started developing a short film idea which I'm writing with the insanely talented
Harriet Gillian
. Hoping we can get that moving over the next few months.
Where can we find you?
︎
mattpartridgeanimation.com
︎
@mattsatonthecat
︎
vimeo.com/mattpartridge
Cheers, Matt!
TRACKLIST
Pom Poko - Leg Day / Amber Arcades - It Changes / Best Coast - Different Light / BODEGA - Name Escape / Generationals - Put a Light On / Peaness - Kaizen / SACRED PAWS - The Conversation / Marlowe - Future Power Sources / Hinds - Spanish Bombs / Warmduscher - Midnight Dipper / Pozi - Whitewashing / Dylan Cartlidge - Wishing Well / Jacknife Lee - Made It Weird / Bilk - Spiked / Pip Blom - Ruby / Lazarus - Ndife Alendo / Cheekface - Dry Heat/Nice Town / Sampa the Great - Final Form / Bessie Turner - Donkey / Julia Jacklin - Pressure To Party / Shopping - Initiative / Haruomi Hosono - 東京ラッシュ (2019 Remastering) / Kiwi jr. - Murder in the Cathedral / Rubblebucket - Came Out of a Lady / Skinny Girl Diet - Okay / Bad Sounds - Wages ︎