Tirzah is an artist and graphic designer located in Baltimore, Maryland, USA.

Hi Tirzah. Can you tell us a little bit about your tape and your song selections?

Haldi is the Urdu word for turmeric, which is notorious for staining everything it touches a vibrant yellow—no matter how hard you try, it feels impossible to wash out. This tape is really inspired by my experience of growing up in America as a child of Pakistani immigrants. Mine is a pretty classic tale of being a kid who's part of the South Asian diaspora: rejecting the culture I was surrounded with at home because I hated that it made me different from others. But I couldn't have erased it from my life completely, even if I had truly wanted to. I pretended to like The Beatles for two years in high school to fit in with my American friends, and I drank chai and listened to Atif Aslam to try and feel Pakistani. But neither extreme felt right, so I've had to learn to try and find my own mixture of both cultures and create my own sense of self.

I centered my tape around young Desi artists who grew up in non-Desi countries and now draw on both traditional and modern influences to create a cohesive but still unique sound. I did a ton of research for this playlist because I wanted to make it a good mix of genres and artists, and I'm pretty stoked with the final result. I discovered so many up-and-coming artists in this process and I'm excited for you all to check them out and hopefully fall in love with their work like I have!

What direction did you take with your cover art, and what was your process?

For the cover, I was heavily inspired by the pattern of a shalwar kameez – traditional Pakistani clothing – that I owned when I was younger. I used to wear it all the time before I outgrew it, but it's still my favorite outfit that I've ever owned. I had a couple different directions that I originally wanted to take this cover, but I kept coming back to this shalwar kameez. I have a lot of comforting memories associated with it, and it felt right to honor it in this piece.


What are your fave album covers, records with a great music and artwork combo, or musical projects with a visual component?


In Rainbows –
Radiohead
2007, XL Recordings
Artwork: Dr Tchock, Stanley Donwood
In Rainbows is my favorite album of all time, but it also has my favorite album art of all time. All of Radiohead's albums have incredible art, but there is something so beautiful about this particular cover, which is apparently layers of wax splattered on canvas with the text overlaid on top! And it perfectly fits the tracks on the album—songs like 15 Step and Jigsaw Falling Into Place make me feel like orange wax splattered on top of a canvas.


Currents
– Tame Impala
2015, Fiction / Modular Records
Artwork: Robert Beatty
Cashmere
– Swet Shop Boys
2016, Customs Music
Artwork: unfun studio
Melodrama
– Lorde
2017, Lava / Republic / Universal NZ
Artwork - Sam McKinniss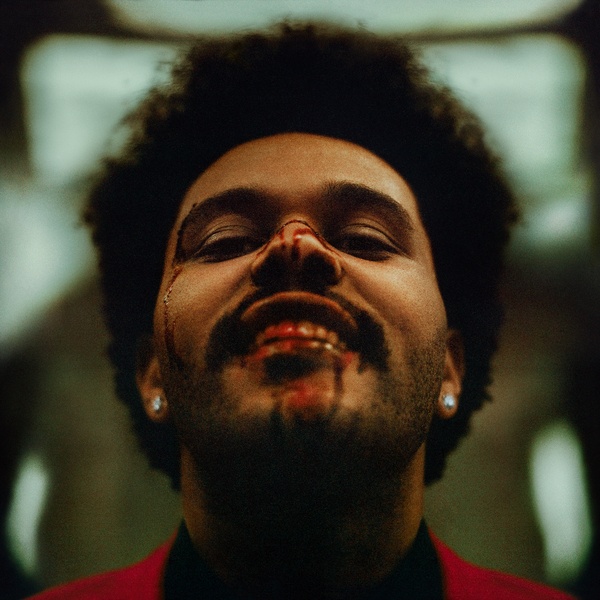 After Hours
– The Weeknd
2020, XO / Republic
Photography - Anton Tammi
The After Hours album cover is so iconic now because of the Weeknd's commitment to storytelling, which was unmatched by anything I've seen before. Every appearance, every performance, every music video—every piece of content related to the album was so carefully crafted to be a part of the visual experience and to tell the After Hours story.

What did you listen to growing up?

I grew up reluctantly listening to a lot of my parents' old Pakistani music— Junoon, Attaullah Khan Esakhelvi, Mehdi Hassan. I hated it at the time, but now I've discovered my own love for a lot of those songs. Attaullah Khan Esakhelvi's "Sub Maya Hai" is one of my dad's favorite songs of all time, and I remember the first time I asked him to play it in the car one night, he was really excited! We spent the whole ride listening to some of his favorite songs and I was able to have a new appreciation for them.

I also was very strongly influenced by my older siblings' taste in music, but especially my older brother. He played a mix of things, but I remember there being a lot of Linkin Park, Radiohead, Sigur Ros, The Album Leaf and God Is An Astronaut. I definitely had a blind love for anything he'd play for me because I was 6 years old at the time that he started really getting into music — but to this day, I still listen to all of the songs he'd play for me back then, so it's probably safe to say that those songs fundamentally shaped my music taste.

And what's on heavy rotation for you at the moment?

Definitely Radiohead — I've been listening to OK Computer a lot these days — but also a ton of Tame Impala, Riz Ahmed's The Long Goodbye, Phoebe Bridgers' Punisher, everything by Vancouver Sleep Clinic, the soundtrack to the Bollywood movie Jab We Met, MUNA's About U and The Weeknd's After Hours, of course (it should have won Album of the Year!). I'm also a bit of a playlist fanatic, so I'm always jamming out to one of my oddly specific playlists.


What's happening in your creative world at the moment?
I have a free monthly newsletter called "love streams" where I share some of the art, poetry and music that moves and inspires me each month. It's something I put a lot of love and time into, and I'm so proud of the little community I've built through it!
Here's the link to subscribe if you're interested.
But besides that, I'm always taking illustrated portrait commissions over on my Instagram. I'm in my final semester of college right now, so I don't have time for much else!
Where can we find you?
︎
tirz.design
︎
@bytirzah
︎
@tirzuh
︎
tirzahbk
Thanks, Tirzah