︎
︎
︎

🎵 IT101: Clean White Sheets
✏️ Rosie Ryott
🗓 13.03.21


Mixcloud / Spotify
Rosie is an illustrator and printmaker from a teeny village in North Yorkshire, currently residing in South East London.
Hi Rosie. Can you tell us a little bit about your tape and your song selections?
Imagine waking up at midday after a night out. It's the middle of summer and you throw the window open to the warmest, sweetest summer breeze hitting your puffy hungover body and you float back into bed. You can smell the wind and feel it on your body, you can faintly smell the detergent from the fresh white sheets you changed the day before.
All my choices are with this vignette in mind. I've chosen a smattering of plinky-plonky tunes which to me translates that summer wind into sound. I've placed instrumental songs among the tracks with vocals to represent the presence and absence of bodies in a sheet's cycle from washing line to bed, to washing line again. And a lot of the songs I've simply chosen because I would love to be listening to them in that setting. This is a 100% feelgood, relaxy, breakfasty playlist.
What direction did you take with your cover art, and what was your process?
My interpretation of the tape is fairly literal. I really wanted to capture that content, sleepy feeling of a summer weekend with no plans and all of the time, the smell of the wind and the absolute A++ feeling of clean bedsheets. The emotion that evokes in me is pure sunshine-heart so I hope it comes across!
Process-wise I always start with pencil roughs then trace and develop on my iPad pro. Brush selection is important for the quality of line and I used my usual palette which is varying opacities of the CMYK spectrum using the 'multiply' blending option. I always arrange my layers so I can convert them for screen printing down the line.
What are your fave album covers, records with a great music and artwork combo, or musical projects with a visual component?


Armchair Boogie –
Michael Hurley & Pals
1971, Warner Bros / Raccoon Records
Artwork: Michael Hurley

Anything and everything by Michael Hurley. He draws them himself which makes them even more charming.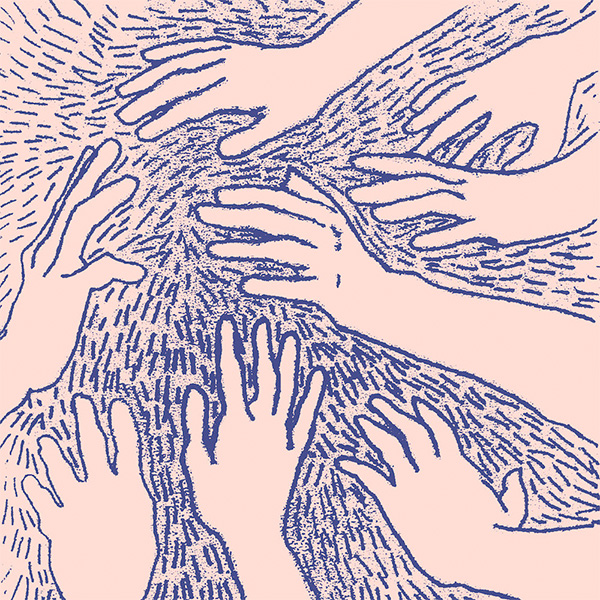 Gist Is
– Adult Jazz
2014, SPARE THOUGHT
Artwork: Samuel J. Travis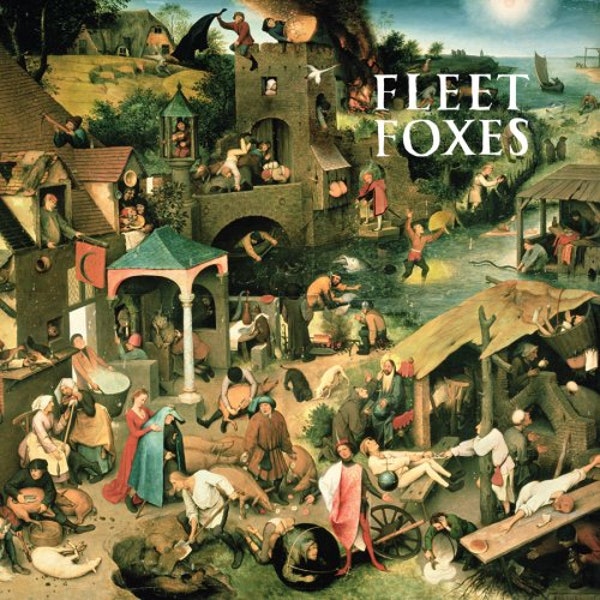 Fleet Foxes –
Fleet Foxes
2008, Sub Pop
Artwork: Pieter The Elder Bruegel
And Fleet Foxes using Breugel's 'Netherlandish Proverbs' is pretty iconic.
What did you listen to growing up?

As a kid from the countryside with a horrendous internet connection I was at the mercy of my townie friend's limewire collections. I was a huuge scene kid so this was mostly screamo which I can't say I have maintained a love for... though still sentimental! My mum is a big listener of classical music so I have a real soft spot for that side of things (I actually edited out an opera track from this playlist) and my dad plays blues and ragtime songs on guitar endlessly so again I have a real soft spot there.

And what's on heavy rotation for you at the moment?

This playlist! Am I allowed to say that? I've never curated a playlist for myself before and I love it so much! I usually listen to someone else's playlist or just chuck songs I like in a big music bucket (my personal playlists are all named after foods) and hope for the best.


What's happening in your creative world at the moment?
Besides portfolio building I'm doing some really cute stuff with the London Gardens Trust for their members comms at the moment. They are a fab charity supporting London's parks and gardens most of which are under huge strain from all the extra traffic due to Covid. They have less funding than ever right now so definitely check them out!
Where can we find you?
︎
rosieryott.co.uk
︎ @
rosieryott
︎
Rosie Ryott

︎
Shapes Lewisham
Thanks, Rosie!
TRACKLIST
Touch – Delicate Steve / Horns Of The Bull (2008 Digital Remaster) – Penguin Cafe Orchestra / Mi Negrita – Devendra Banhart / Clay Pigeons – Michael Cera / After Hours – The Velvet Underground / Open Up – Michael Hurley / Better Than Me – Doja Cat / Dora – Tierra Whack / Source (Connection) – Delicate Steve / Pigeon Skulls – Adult Jazz / 22 (OVER S∞∞N) – Bon Iver / Lushoto – John Wizards / In The Flowers – Animal Collective / Disorder (2007 Remaster) – Joy Division / Swim and Sleep (Like a Shark) – Unknown Mortal Orchestra / Salad Days – Mac DeMarco / Act Like You Know – Pete Rock & C.L. Smooth / Maria – John Wizards / Bean Fields (2008 Digital Remaster) – Penguin Cafe Orchestra / Woke Up This Morning – Abner Jay / Sorry You're Sick – Ted Hawkins / Pata Pata – Miriam Makeba / Let Her Go – Mac DeMarco / You and Me – Penny & The Quarters / Into White – Cat Stevens / Wild Horses – The Rolling Stones / Penguins –Michael Hurley ︎