🎵 Illustrated Tapes 100: Jet Set Radio Remix
✏️ Ollie Hoff
🗓 05.03.21


Ollie is a freelance illustrator based in Norwich, UK.

Heya Ollie. Can you tell us a little bit about your tape and your song selections?

Hey Sam! So Jet Radio Radio was a Dreamcast game I fell in love with when it first game out a long time ago. Apart from the beautiful art-style and fun (but janky) game mechanics, I absolutely loved the soundtrack. I've been desperate for a new game in the series for years but sadly no luck. From time to time I will hear an upbeat track that sounds like it would fit in the JSR world, so I've been collecting them up, almost creating the soundtrack for an imaginary sequel.

What direction did you take with your cover art, and what was your process?

I'm a big sucker for creating fan-art based on favorite games / shows or films I like. Jet Set Radio has been a game I've wanted to do something for ages now so it really felt like the perfect opportunity. In both of the JSR games, the environments are always pretty hectic so I wanted to challenge myself and create something that mirrors that in my normally very simple style. Was tough to get that much detail in, but I'm really happy with how it turned out!


What are your fave album covers, records with a great music and artwork combo, or musical projects with a visual component?


Wild –
Tourist
2019, Monday

Tourist - Wild (This record is incredibly chilled and I think the simple yet bright cover does a great job to reflect it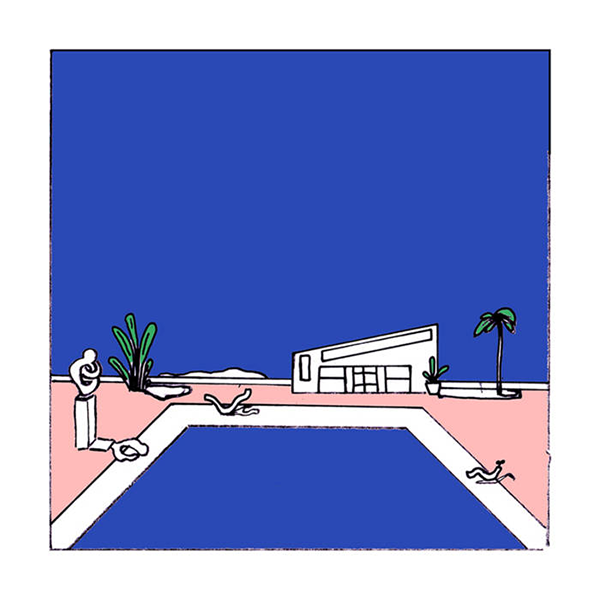 Nice Guys Compilation Vol. 1
– Nice Guys
2019, Nice Guys Records
Artwork: Salina Ladha
I'm a sucker for a lovely illustrated cover, this works so well with the band 'Nice Guys'. Love the limited colour palette on this one too.

Veckatimest – Grizzly Bear
2009, Warp Records
Design: Ben Wilkerson Tousley
Illustration:William J. O'Brien


Grizzly Bear are one of my all time favourite bands, and I've always absolutely loved the offset type and colours in this album
Bon Iver –
Bon Iver
2011, Jagjaguwar
Artwork: Gregory Euclide
This stunning painting by Gregory Euclide blows me away everytime I see it, such a great fit for Bon Iver's first (and personally still favorite) album.
What did you listen to growing up?

Pop and indie was my thing when I was younger; Muse, The Strokes, Arctic Monkeys, stuff like that. Sadly discovering new music was harder when I young so I was at the mercy of Radio 1!

And what's on heavy rotation for you at the moment?

Ohh good question! I constantly trying to new stuff to obsess over, currently I have these on loop:

Nick Hakim & BADBADNOTGOOD – 'QADIR (remix)'
The Brummies – 'Alone With You'
Nice Guys – 'Skytop Garden'
Moon Panda – 'Slow Drive'
LAUREL – 'Scream Drive Faster'


What's happening in your creative world at the moment?
It's a bit all over the place at the moment really! I'm still pushing freelancing hard, trying to get more into the games industry but it's very hard, especially as a freelance illustrator. Lockdown has been crushing for creativity but I think I'm finally getting there!
Where can we find you?
︎
olliehoff.co.uk
︎ @
Olliehoff
︎ @
Ollie.hoff
Cheers, Ollie!
TRACKLIST
Birds Dont Sing – TV Girl / Yo Mae Leh – Invisible Minds / Swell – Bonus Points / Laughter – Astrocolor, Wendy Rene / No Fear – Inflo / Tag Walls, Punch Fascists – 2 Mello / Skytop Garden – Nice Guys, JAWNY / Good Love 2.0 - (Little Dragon Remix) – Priya Ragu / All About You (feat. Foster The People) – The Knocks /イン・ザ・サン・アゲイン – Sunny Day Service / Don't Stop (Rework) – 80KIDZ / Games – NEIL FRANCES / you – SuperParka / Motion (2019 Sessions) – YOUR SONG IS GOOD / Guess – HalfNoise / Dark Clouds Rain Soul (Dub) – Breakestra / Yesteryear – Cosmo's Midnight / Falling Back – Roosevelt / Hands in the Air – Dance System,Hudson Mohawke / Dumb Love – NEIL FRANCES / YELLOW – Nick Monaco ︎