Naira is an artist based in San Fransisco.

Hiya Naira. Can you tell us a little bit about your tape and your song selections?

This tape is about this feeling of confidence, reassurance, and peace in being on your own. The title is inspired by the song "Alone & Unafraid" by ELIZA. What I love about this song is that she sings about how being "alone and unafraid" isn't about not needing others, but about being okay on your own and making your own little world. For so long I equated being "alone" with fear and unhappiness. Through this playlist I want to create a feeling of peace and healing in solitude and remind myself that just because I am alone doesn't mean I have to feel lonely or afraid.

One of the songs on there "Green Tea Ice Cream" by Linda Diaz really goes into the idea of finding your peace amidst the chaos and stress, and finding yourself in the things you love. The tape also travels through to some more upbeat songs that act as mantras, reminders, and calls to action to be your authentic, true self, and that you will always find your way.

It then ends tenderly with "quiero sentirme bien" by Kali Uchis which goes back to this idea of healing and wanting to find peace.

What direction did you take with your cover art, and what was your process?

It really started with me just listening to some of the songs I chose and sketching/doodling! I knew I wanted feelings of peace and calm but also solitude and tried to doodle what images came up for me. I also wanted to stay true to the subjects that are usually in my work (nature and women of color), so that was something I kept in mind while drawing.

Once I had a solid idea that I liked I took a picture of it, put it into Photoshop and started digitally drawing & painting over it. The final differs a bit from the original doodle idea, but it's pretty close! I knew I wanted the whole thing to have a very hand-drawn kinda vibe, like a little world I created just for myself, so that idea went into my brush and technique choices.

I think the final image, an oasis in the palm of your hand, illustrates really well the idea I wanted to convey with "Alone & Unafraid".

What are your fave album covers, records with a great music and artwork combo, or musical projects with a visual component?


Ok, this thought just came to me, but does anyone remember the website 8tracks? (or still use it? I think its still around) I used to go on there in high school and listen to playlists people made and admired the cover artwork for some of the playlists as many of the users were artists and created it themselves! I think that was maybe the first time I really noticed how much I like the connection between art and music.

But for my fave art+music combos, one of the first projects/people that come to mind is Young & Sick. They created the album artwork for Foster the People's debut album and a bunch of other notable people like Maroon 5. Their other artwork is so cool and trippy I love it! Young & Sick's own music is also really great; I still got their debut album on repeat.


Overexsposed
- Maroon 5
2012, A&M Octone Records
Artwork: Young & Sick
Young & Sick
- Young & Sick
2014, Harvest Records
Artwork: Young & Sick
I also admire Kali Uchis a lot for how although she's an amazing singer and songwriter she's an artist above all! She's designed her own album cover artwork and directed some of her music videos. I love the idea of creating this little world for yourself and using both music and visual art to achieve that.
I also love Janelle Monae for this: building a world through music and visuals. Her albums
The ArchAndroid
and
The Electric Lady
illustrated a queer, black, future that really inspired me as a teenager. Another singer I think who does this beautifully is Raveena. Through her music videos, music, style, even during her live performances (which I've binged on YouTube), she creates this sense of softness and openness, and creates a space for her sexuality and cultural heritage.
"Headaches" [
Music video
] - Raveena
2020, RCA Victor
Dir: Raveena Aurora
Here's some of Raveena's videos to see what I mean!

I also wanna mention Sergio Vazquez, the illustrator who designed Bad Bunny's debut album cover, X100pre, and created Bad Bunny's iconic third eye! I really admire him for inadvertently creating such an integral part of Bad Bunny's persona.


Bad Bunny [Gig poster]
March 8 2019, Coliseo, San Juan
Artwork: Sergio Vazquez
Oh also something else I think is cool, in anticipation of the release of Kaytranada's
99.9%
they released a video game based on the album! It was designed by Ricardo Cavolo who also worked on the album art which I really like. I love that idea of all types of visual art from video games to films to art installations being combined with music. I've never played the game, but there's a 15 second little teaser on Kaytranada's facebook you can
watch here.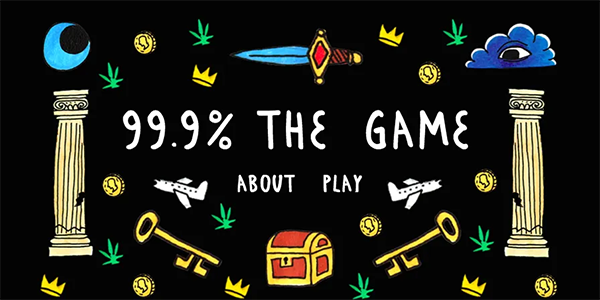 99.9% The Game
2016, Coliseo, San Juan
Design: Ricardo Cavolo
What did you listen to growing up?
When I was a kid it was whatever my mom was listening to! She loves music and was a teen in the 90s. So it was a lot of Alicia Keys, Beyoncé, Erykah Badu, Jill Scott, the Fugees, Lauryn Hill, just a lot of 90s and early 2000s R&B.
When I was really little my friends and I would play "American Idol" on the playground and I would always sing either an Alicia Keys or Ciara song for my "performance" (lol). My parents are West Indian, so my mom was also always playing a recent CD mix someone burned for her of whatever soca and dancehall music was out at the time. Both of my parents loved (and still love) Bob Marley; I remember almost every time I got in the car as a kid a Bob Marley CD would be playing. Also other reggae classics like Buju Banton, Lady Saw, and Beenie Man snuck into my subconscious.
And what's on heavy rotation for you at the moment?
Honestly, this playlist haha! As of right now, I've also been listening to a lot of Snoh Aalegra, Orion Sun, Jorja Smith and for some fierceness Azealia Banks and Leikeli47. Also recently started listening to Amaarae, she's so good! I've also been living vicariously through Jyoty's Boiler Room set on YouTube. Mentally, I'm here:
youtube.com/watch?v=2VrztYTNYT8
What's happening in your creative world at the moment?
Currently just trying to keep creating! I love and need it, but it's felt very elusive lately. I'm really appreciative of opportunities like this one, especially since it allowed me to combine two of the things I love the most. I'm always wanting to work with musicians, so I'll hopefully be doing more of that in the future. And if any musicians or other artists are reading this and want to collaborate, please reach out! In general, creating my own little oasis with my artwork :)
Where can we find you?
My website is
www.nairadiptee.com
and my instagram is @
naiddart
Thanks Naira!
TRACKLIST
ELIZA - Alone & Unafraid / Linda Diaz - Green Tea Ice Cream / Sabrina Claudio - Confidently Lost / Silva - Fica Tudo Bem / KAINA - Honey / Raveena - Stronger / Solange - Cranes in the Sky / WILLOW - Gajendra / Kali Uchis - After The Storm (feat. Tyler, The Creator & Bootsy Collins) / Raveena - Bloom / Corinne Bailey Rae - Put Your Records On / Kali Uchis - Know What I Want / Kelissa - Slow Down / Raveena - Sweet Time / Chronixx - I Can / Ms. Lauryn Hill - Everything Is Everything / ENNY - Peng Black Girls (Remix) / ELIZA - Livid / Bob Marley & The Wailers - Don't Rock My Boat / Kali Uchis - quiero sentirme bien ︎