Edie is an artist and illustrator from Birmingham, UK currently living in Bristol.

Hi Edie. Can you tell us a little bit about your tape and your song selections?

Hiya! So my tape is called 'Onna no Ongaku' which means 'Girl's Music' in Japanese and the aim of the playlist is to celebrate female Japanese artists! A lot of the music I listen to fits that brief so I just wanted to delve deep into that world and find the songs that I felt showcased a span of different genres.


What direction did you take with your cover art, and what was your process?

It's based on Japanese 'purikura' photo booths, they make your eyes super wide and skin smooth and pale, then you can add stickers and doodle on it until you're beyond recognition. I wanted something colourful and bubbly, and this seemed the best format for that. Here is the purikura that the cover is based on - from my last trip to Japan!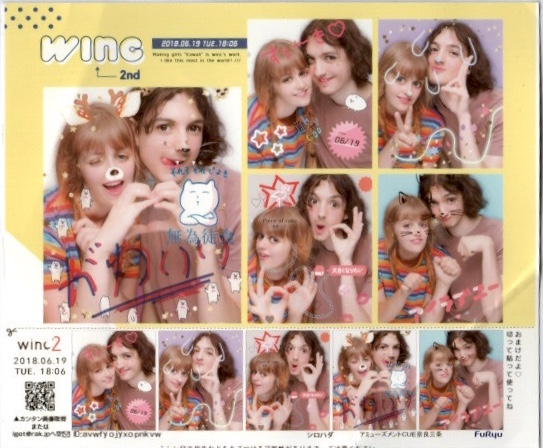 What are your fave album covers, records with a great music and artwork combo, or musical projects with a visual component?

My favourite album art/music combos are basically all the album covers by CHAI (who feature a couple of times on my playlist) which are mostly done by their bassist Yuuki. They're painterly and graphic, very colourful and kind of silly which I think encapsulates their sound well too.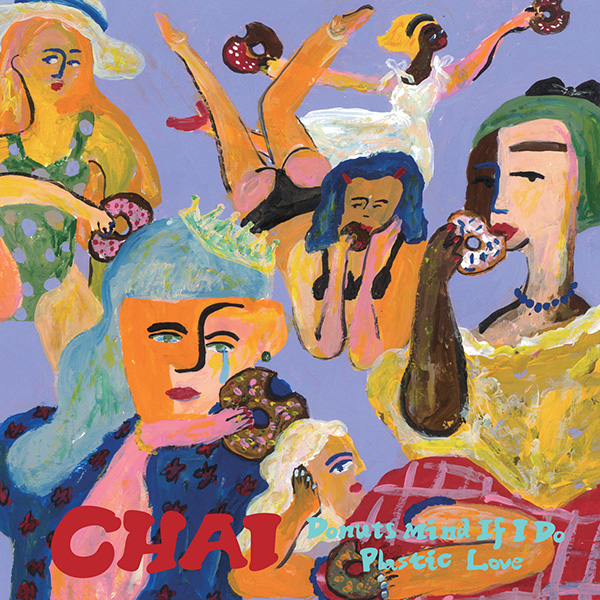 "Donuts Mind If I Do" / "Plastic Love" [single] – Chai
6 November, Sub Pop
Artwork: Yuuki

"ハルモニア (feat. Makoto)" - yuichi NAGAO
2017,
Animation: Tarafu Otani

Also on the playlist is the song 'ハルモニア' (Harmonia) by yuichi NAGAO, I first came across this song at a modern art gallery in Tokyo, the music video had won an award for best animation (or something along those lines) and it's just so gorgeous *chefs kiss*.

"コットンキャンヂイえいえいおー!)" - Kurosawa Ruby
2020,
Animation: Onkun Suko

The last song is 'コットンキャンヂイえいえいおー!) (Cotton Candy Ey Ey Oh!) by Kurosawa Ruby, I implore everyone to watch the video, words cannot do it justice.
On an unrelated note to my playlist I also love all music videos by OK Go, they're constantly pushing the boundary on what's even possible for music videos and it's just so much fun to watch. I especially love when they trained rescue dogs to dance in 'White Knuckles' and played around in zero gravity for 'Upside Down and Inside Out'.

"White Knuckles" [Music video] - OK Go
2018, Paracadute / ARESA / BMG
Dir: Trish Sie
What did you listen to growing up?

From my Dad I got a lot of Ian Dury, he had the album art for New Boots and Panties framed on the wall and I found the whole thing fascinating growing up, there's a lot going on in that image. Also a lot of jazz, cause that's what dads are for. My mum was more 80s electro like Erasure and a fan of The Prodigy too, we had Fat of the Land in the car.

There was also the usual early 2000s pop, S Club 7 and Britney, then my teenage emo phase but that's all much less cool to talk about...

And what's on heavy rotation for you at the moment?

The Go Team's most recent album Semicircle is a big one for me at the moment. I've also been enjoying a lot of filthy female hip hop artists like Mulatto and Cardi B. "WAP" has been on repeat this lockdown.


What's happening in your creative world at the moment?
Up until a few days ago it was the online craft fair I was running with
my collective
, we missed stalling at zine fairs this year so set up a special Christmas only online store! Now I'm planning to rest for the holidays and get back into new projects in the new year.
Where can we find you?
︎ @
edie.woolf
Thanks, Edie!
TRACKLIST
CHAI - ぴーちくぱーちくきゅーちく / Shonen Knife - I Wanna Eat Chocobars / Kero Kero Bonito - Sick Beat / Otoboke Beaver - あなたわたし抱いたあとよめのめし (anata watashi daita ato yome no meshi) / Aqours - JIMO-AI Dash! / RAISE A SUILEN - R·I·O·T / Deerhoof - Milk Man / ZOMBIE-CHANG - Lemonade / yuichi NAGAO - ハルモニア feat. Makoto / CHAI - I'm me / chelmico - 午後 / Friday Night Plans - Plastic Love / WEDNESDAY CAMPANELLA - Melos / chelmico - Disco (Bad dance doesn't matter) / Perfume - チョコレイト・ディスコ /
黒澤ルビィ (CV.降幡 愛) from Aqours - コットンキャンディえいえいおー! ︎