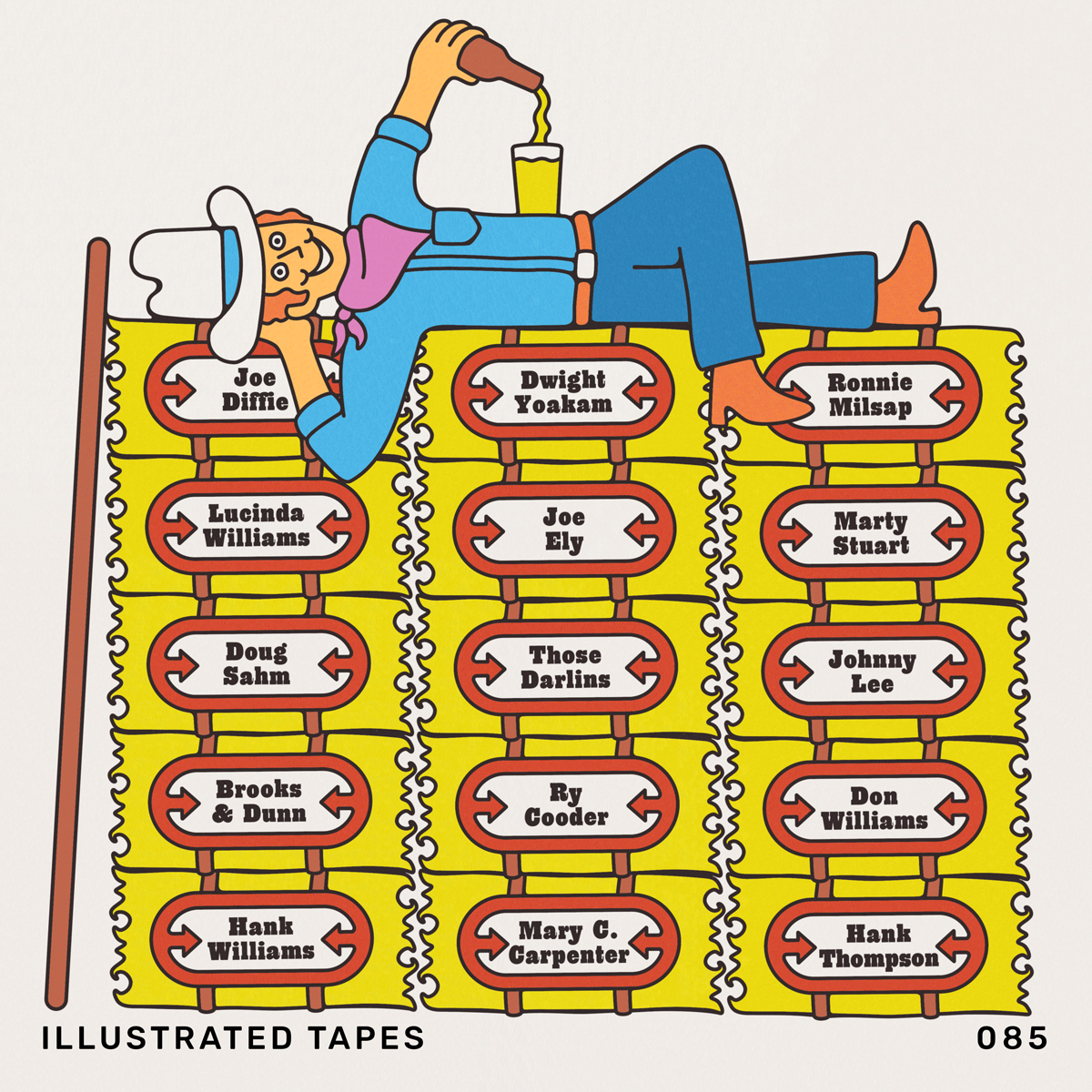 🎵 IT085: Honky Tonk Hayride
✏️ Shaun Miller
🗓 27.11.20


Shaun is artist from Milwaukee, currently based in Chicago.

Heya Shaun. Can you tell us a little bit about your tape and your song selections?
Hey! Thanks for having me here. This is a mix of my favorite country tunes. Not all are honky tonk, but they fit that general vibe. When putting it together I imagined a live show, thinking "ok, who would go first? And who would follow up that song?" etc. That's how I figured out the order.
They're songs that remind me of being sweaty in a crowded bar with friends – something we won't be able to do for a while. In that way, it's a love letter to some of the events and places I miss most, like Chicago's Prairie School at Burlington Bar and Honky Tonk Happy Hour at the Empty Bottle.
What direction did you take with your cover art, and what was your process?

I've had the cowboy sketch for a while, and I was happy to use it here. I was a bit stumped on a background though. Then I realized it was fall and the hay bales idea hit me. I thought it'd be great to include our cowboy on top of a stack. Then, to give it an old compilation album feel, I listed the artist names over each bale. Originally I wanted the names to look like jukebox title cards, but that made everything too small. So I opted for this design instead.


What are your fave album covers, records with a great music and artwork combo, or musical projects with a visual component?

Aaron Lowell Denton is my favorite designer today. Here's one of his covers. I feel like we share a lot of the same influences and, when it comes to album art, I'm attracted to color and a font that you don't see every day. Aaron always comes through on both.


Texas Sun
– Khruangbin & Leon Bridges
2019, Dead Oceans
Artwork: Aaron Lowell

Milton Glaser's a towering figure in graphic design, but I feel like his album covers aren't talked about enough. This is one of my favorites. It's playful, colorful, and the lettering catches your eye. It's everything I need.

I'm A Stranger Too! –
Chris Smither
1970, Poppy
Design: Milton Glaser
Photography: Jim Bogin

Sandy Hoffman was a contemporary of Glaser's. I love his covers for Crossroads Records. Each one's humorous and has that kind of pop psychedelia – one that's mainstream and not overly psychedelic – I love.


Trout Quintet & Quartet No. 12 In C Minor (Quartettsatz) – Schubert, Jan Panenka, František Pošta & Members Of The Smetana Quartet
1966, Crossroads
Artwork: Sandy Hoffman
Art Dir: Sid Maurer


And because this is a country mixtape, here's my favorite country album cover. I just love the image of a man climbing a giant cowboy hat to play his guitar. Wayne La Com is listed as the designer, but I don't know anything about him sadly.
Fantastic Country Vol. 1 –
Various
1972, RCA
Artwork: Wayne La Com
What did you listen to growing up?

My Dad's a real music lover. He owns over 10,000 CDs, and that's not even counting cassettes and vinyl. I grew up going to a lot of record stores with him on weekends, and listening to the day's spoils in the car. A lot of blues and 70s rock and frankly anything cheap and interesting. I was exposed to a ton of interesting stuff.

In my teens, I listened to a lot of garage rock and bands like The Replacements and Guided By Voices. Scrappy Midwest bands with a knack for hooks.

And what's on heavy rotation for you at the moment?

I've been jamming to a lot of the Colemine Records catalog. I've always liked him, but Bruce Springsteen finally 100% clicked with me over quarantine. Sting's Ten Summoner's Tales and Prince's Sing O' the Times have been on heavy rotation too.


What's happening in your creative world at the moment?
I'm excited that I have a couple album cover projects keeping me busy. Otherwise, I'm looking to see if I can squeeze in time for personal projects and Christmas card designs. I always like giving personalized cards if I can.
Where can we find you?
︎
shaun-miller.com
︎ @
weatherpress
Thanks, Shaun!
TRACKLIST
Joe Diffie - Honky Tonk Attitude / Dwight Yoakam - Fast as You / Ronnie Milsap - (There's) No Gettin' Over Me / Lucinda Williams - I Just Wanted to See You so Bad / Joe Ely - Wishin' For You / Marty Stuart - Burn Me Down / Doug Sahm - (Is Anybody Going To) San Antone / Those Darlins - Wild One / Johnny Lee - Bet Your Heart on Me / Brooks & Dunn - Boot Scootin' Boogie / Ry Cooder - He'll Have to Go / Don Williams - We've Never / Tried It With Each Other / Hank Williams - Settin' The Woods On Fire / Mary Chapin Carpenter - The Bug / Hank Thompson - A Six Pack To Go ︎