Jacob is an illustrator based in Derby, UK.

Hi Jacob! Can you tell us a little bit about your tape and your song selections?

This tape is for when things are off but you're surfing that wave. Some high-energy nonsense to draw and dance to, embracing the unhinged without going off the deep end.

I picked songs I associate with bright paint and being silly, maybe mischievous. There's wonky notes and big drums. I get really into matching song endings and beginnings, I got to do that a lot here.

What direction did you take with your cover art, and what was your process?

I had the mix on repeat and went. There were a lot of false starts but they were fun too. The aim is that everything is simple and digestible but on the brink of too much.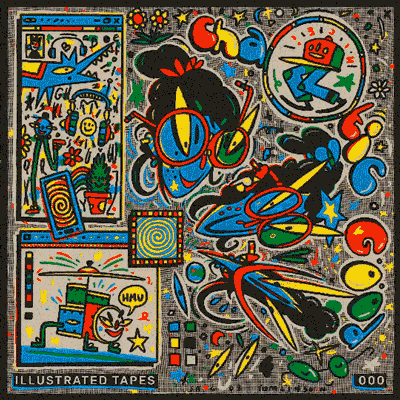 What are your fave album covers, records with a great music and artwork combo, or musical projects with a visual component?

Favourites are impossible but here's some great drawn covers.


Places Like This
– Architecture in Helsinki
2007, Polyvinyl
Artwork: Will Sweeney
This angular text looks so cool and those colours are magic, it's like gameboy palette green.

I really like busy designs that reward longer viewings, you can explore and get lost.
Clockwise from top left:
Hey Everyone –
Dananananaykroyd
2006, Machine
Artwork: Keaton Henson
Hysterics
- Rolo Tomassi
2008, Hassle
Artwork: Simon Moody
Stagecoach vs Johnny Foreigner
- Tru Punx
2010, Alcopop
Artwork: Mark Gamble / Lewes Herriot
Our First American Friends
- Tubelord
2009, Hassle
Artwork: Leemun Smith
Paste Magazine's Songs Illustrated
Song: "GO!" – M83
Comic artist: James Harvey
2016
A few years ago
Paste Magazine ran a series of song comics
– like a music video but a comic, the pacing syncs by reading along with the lyrics. The medium is admittedly harder to follow than a video but there's serious potential to a visual analogue to music which can express the flow of time. I like what James Harvey did with his.
What did you listen to growing up?
My Dad played a whole lot of The Damned and Pixies growing up, but also I'd hear all the pop music from the TV. My school friends got me into heavier music, my internet friends got me into indie music. I don't know I'm still growing up.
And what's on heavy rotation for you at the moment?


I'm listening to my favourites from last November which is
Tender Buttons by Broadcast
. It's perfect for feeling warm and gloomy as the days get shorter.
What's happening in your creative world at the moment?
I'm usually away making flyers but there's not a lot of gigs on at the moment. I've got a fun vinyl release and a little music vid in the works. I've also been recording drum parts for my friends.
Where can we find you?
︎
jacobtomlinson.co.uk
︎ @
jacob.illustration
Thanks, Jacob!
TRACKLIST
Dan Deacon - Konono Ripoff N°1 / Guerilla Toss - Own Zone / Ponytail - Beg Waves / Deerhoof - Giga Dance / bug - Goblin Song / ESG - It's Alright / Suburban Lawns - Anything / Shopping - Straight Lines / Kaputt - Highlight! / Deerhoof - The Perfect Me / Ludus - Patient / Duds - Keine / Mothers - BLAME KIT / Charlotte Adigéry - High Lights (Edit) / Guerilla Toss - Eraser Stargazer Forever / Whirlwind Heat - Grey / Pixies - Vamos (Surfer Rosa) / Melkbelly - Sickeningly Teeth / Four Tet - fuji check ︎