🎵 IT076: Against the Grain
✏️ Chloe McMullen
🗓 22.09.20


Chloe is an illustator and comic artist from Irving, Texas, currently based in Chicago.


---

Hey Chloe. Can you tell us a little bit about your tape and your song selections?

My concept for this playlist was a woman's final drive away from domesticity and into the unknown. Songs about a woman's struggle for independence, and the silent internal conflict of living your truth versus living with those you love. The reality that your truth can only thrive in opposition of a comfortable life.

The listener knows that authenticity is more fulfilling, but that doesn't make it hurt any less to leave. I also want to challenge myself by exploring a genre that I have yet to learn about. I tried to primarily focus on women folk artists, or artists who created works aligned with this mixtape concept.



What direction did you take with your cover art, and what was your process?

I have always loved driving montages in movies, and I wanted to capture that in my cover art. Some of the artists on this playlist also explore this motif in their music videos or album covers. I was really struggling to create thumbnails for this piece. When I struggle with a piece, I tend to look through old family photos. I found a photo of my mother when she was younger driving in our hometown. We had a complicated relationship, but I do share her affinity for rebellion. I referenced this photo in my piece.

What are your fave album covers, records with a great music and artwork combo, or musical projects with a visual component?


"All Over" [Music video]
– CRUISR
2014, Vagrant Records
Dir: Chris Carboni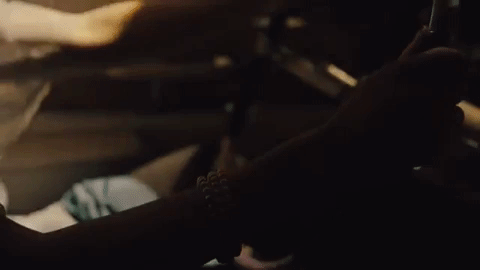 What did you listen to growing up?

I have a specific memory of my dad playing a CD he made everyday on our way to school. It was comprised of Blink-182, Weezer, and Angels and Airwaves.

And what's on heavy rotation for you at the moment?

Mitski , ZOMBIE-CHANG, Haley Blais, The Buttress.


What's happening in your creative world at the moment?
I'm studying illustration at Columbia College Chicago. When I have time between school and work I spend time on a small autobiographical comic. Ideally it'll be done by December.
Where can we find you?
︎
cbm071399.wixsite.com/blairofficial
︎ @
_blair_o
Thanks Chloe.

TRACKLIST
Sibylle Baier - Tonight / Nina Simone - I Wish I Knew How It Would Feel to Be Free / Dalton - Something On Your Mind / Mitski - A Pearl / Haley Heynderickx - The Bug Collector / Linda Perhacs - Hey, Who Really Cares / Sibylle Baier - Forget About / Connie Converse - How Sad, How Lovely / Ane Brun - All My Tears / Shamir - Lived and Died Alone / Sharon Van Etten - Every Time the Sun Comes Up / Jean Ritchie - A Short Life of Trouble / Grace Potter & The Nocturnals - Nothing But The Water (I) / Yola - Dead and Gone / Elizabeth Cotten - Freight train / Anna & Elizabeth - Long Time Travelin' ︎