Mixcloud
/
Spotify
---

Rhys is a designer and illustrator currently residing in London by way of Hull, East Yorkshire.

What's up Rhys. Can you tell us a little bit about your tape and your song selections?

I've always had a playlist that has been growing for about ten years now (last check it was nearly at nine hours in length). I've never been able to fully explain its inspiration – I guess it would be a coming of age playlist. It started during a transition that I guess we've all been through, that would be leaving home and being fully independent. There's some feelings of loneliness, heartbreak, and growing from those experiences.

What direction did you take with your cover art, and what was your process?

I wanted the cover to be quite dark in tone as the theme of the playlist seemed to follow the same way. The water reminds me of working abroad, there were outdoor swimming pools that we would go to at night. Being surrounded by forest meant there was very little light except that of the stars above us, it was all very calming so it's often something I think about when I feel anxious.

I like playing with distortion and unusual colour combinations, so I wanted the water ripples to be the distortion in the typeface which surprisingly brought out the hints of pink which I thought was cool.


What are your fave album covers, records with a great music and artwork combo, or musical projects with a visual component?


My Beautiful Dark Twisted Fantasy
– Kanye West
2010, Roc-A-Fella Records
Art direction: Kanye West, Virgil Abloh
Paintings: George Condo
Mellon Collie and the Infinite Sadness
– The Smashing Pumpkins
1995, Virgin
Illustration: John Craig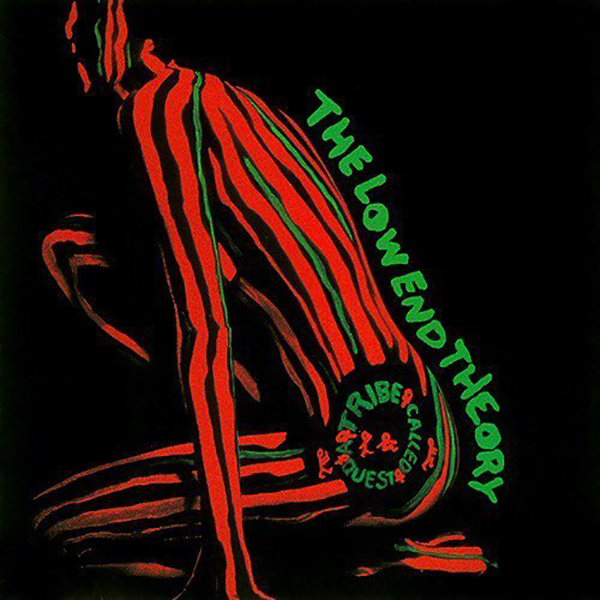 The Low End Theory
– A Tribe Called Quest
1991, Jive
Design: Jean Kelly (aka. ZombArt JK)
Photography: Joe Grant
What did you listen to growing up?
Nu metal and pop punk and never stopped either.
And what's on heavy rotation for you at the moment?

Bring Me The Horizon, Kanye West, Childish Gambino, Violent Soho.
What's happening in your creative world at the moment?
Day to day I'm designing artwork for apparel and merchandise for the music industry.
In my free time, I've been experimenting with different design styles. Using my experience working in designing apparel graphics, I want to have a look at bringing film into apparel too, using elements from a film to tell the story through apparel and print. I've always been inspired by the poster work of the 80s/90s in film and what artists do now with reinterpreting them.
Where can we find you?
︎
rhysjonesdesign.com
(Apparel & Music design)
︎
@rhysjonesdesign
Cheers, Rhys!
TRACKLIST
Childish Gambino - Feels Like Summer / Kanye West - Real Friends / Sleigh Bells - Rill Rill / A Tribe Called Quest - Electric Relaxation / DJ Shadow - Mutual Slump / Sneaker Pimps - Six Underground / The Pharcyde - She Said (Jay Dee Remix) / Stardust - Music Sounds Better With You (Radio Edit) / Tame Impala - Breathe Deeper / Nightmares On Wax - Nights Interlude / James Blake - Mile High (feat. Travis Scott & Metro Boomin) / Kid Cudi - Pursuit Of Happiness (Nightmare) / Childish Gambino - Algorhythm / Burial - Archangel / TOKiMONSTA - Realla / Philanthrope - Lament / JAY-Z - Dead Presidents II / Yves Tumor - Gospel For A New Century / Free Nationals - Time / The Internet - It Gets Better (With Time) / Kanye West - Street Lights / Bon Iver - 33 "GOD" ︎