︎
︎
︎
🎵 IT049: Factory Street Discotheque
✏️ Idiot's Pasture
🗓 15.01.20
---

Idiot's Pasture is an illustrator, printmaker, drawer and educator from Halifax, UK (and sometimes Leeds).

Heya IP! Can you tell us a little bit about your tape and your song selections?

Hello! The mixtape is a selection of songs from a much larger playlist that I made to listen to on the days that I have a band practice. I play in a band called Holodrum and this helps get me in the right headspace before and after work to make the music I want to make.

It's sort of become a bit of a motivational playlist over the last few months - all deliberately upbeat songs that make me want to move my limbs, it's a good playlist to listen to when life feels like it's beginning to slap the creativity out of you.

When people ask what kind of music we make I always just say disco or post punk but I'm not sure if it's either of those things but I'd like to think it's somewhere in the arena of the songs on this tape. The tape gets its title from the street that our studio is on.

What direction did you take with your cover art, and what was your process?

The artwork so far for the Holodrum singles has all focused around choreography scores where I've tried to interpret how someone might dance to our music. For this I was trying to think how I'd dance to the Guerilla Toss tune on the tape, particularly the very brief 'chorus' sections. I guess it'd look something like this? Just wiggle your limbs and hop around a bit.

In terms of process, I always say that I put together my images the way an Airfix model gets assembled. Each element is hand drawn out side by side on the same sheet then built digitally. One of my drawings basically looks like a page of individual circles and wobbles when it's scanned.


What are your fave album covers, records with a great music and artwork combo, or musical projects with a visual component?


Never Been Caught
– The Mummies
1992, Telstar Records
Photography: Uncle Mike Lucas, Sven-Erik Geddes
The Mummies Play Their Own Records!
– The Mummies
1992, Estrus Records
Photography: Sven-Erik Geddes
I'm gonna go for a couple of albums by The Mummies for my favourite artwork.
Never Been Caught
and
The Mummies Play Their Own Records!
Purely because they make me laugh. I was obsessed with The Mummies when I was doing my degree, I couldn't get enough of them. I must have watched every live performance of theirs that was online. The pure spectacle of four adults causing havoc in full B-movie style mummy costumes fascinated me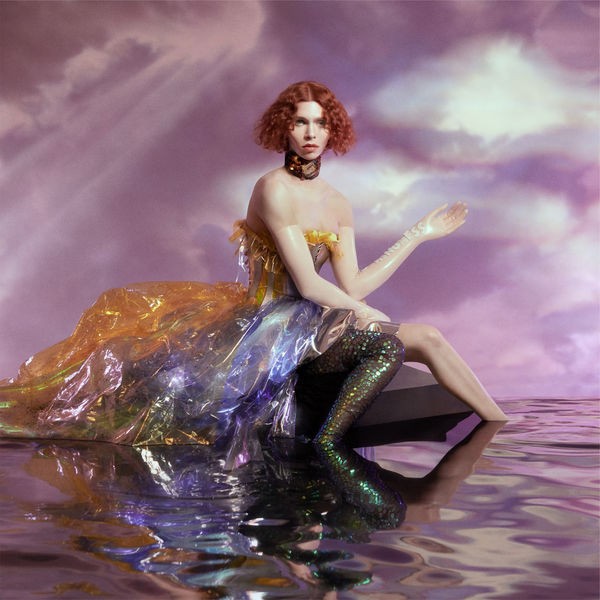 Oil of Every Pearl's Un-insides
– Sophie
1994, Epic
Artwork: Eddie Vedder
Art Direction: Joel Zimmerman
The artwork for Sophie's
Oil of Every Pearl's Un-insides
(which is maybe my favourite album of the 2010s) is absolutely stunning - how it simultaneously looks like a baroque painting and from the future. The costume is beautiful. The cellophane, the water, the PVC, her hair - everything is immaculate. It feels like a sequel to the Kate Bush's
Hounds of Love
cover.
What did you listen to growing up?
My parents weren't massively into music so we never had it on in the house. Like most people my age I was into a lot of pop punk when I was young - Blink 182, Jimmy Eat World, The Get Up Kids. I then got into hardcore, punk and post-punk (mainly Gang of Four and The Fall) and started working backwards from there. I was obsessed with 60s girl groups for a long time, particularly the Shangri-Las and a compilation called 'One Kiss Can Lead to Another'.
Throughout my degree I listened to a lot of garage rock alongside the girl groups - The Sonics, The Mummies, The Gories, Billy Childish etc. I started getting more into techno and electronic music about 5 or 6 years ago. In terms of bands and musicians that I've continuously listened to throughout my life; The Carpenters and The Beach Boys have always been very important to me.
And what's on heavy rotation for you at the moment?

'Divine Intervention' by PVA. It is SO GOOD. Annoyingly good. I wish I'd written it. Matt from Holodrum sent me it and as soon as I heard the bassline I was like "shit...this is what I should be doing". An absolute banger. I picked up a 12" single of 'Your Love' by Frankie Knuckles whilst in Liverpool recently so that's been on the turntable a lot, I didn't really have much disposable income when I saw it but I couldn't leave it behind. Big into the new Soccer Mommy single 'Yellow Is The Color Of Her Eyes' too.
What's happening in your creative world at the moment?
Writing and recording music with Holodrum. I'm doing my Masters Degree at the moment so most of my creative energy is being put into that. I'm looking at how walks can be documented and revisited through comics/graphic storytelling and attempting to compose soundtracks the comics using sound samples recorded from the walks themselves. If you want to listen to Holodrum there are some tunes here:
holodrum.bandcamp.com
Where can we find you?
︎
idiotspasture.co.uk
︎
@idiotspasture
︎
holodrum.bandcamp.com
Thanks IP!
TRACKLIST
The Juan Maclean - What Do You Feel Free About? / Liquid Liquid - Optimo / The Galleria - Stop & Go / U.S. Girls - M.A.H. / Maximum Joy - Stretch (7" Version) / Metro Area - Miura / YACHT - Blue on Blue / Guerilla Toss - Spider Heard / ESG - Moody / Delta 5 - Mind Your Own Business / Factory Floor - Two Different Ways / Yasuaki Shimizu - Kakashi / Konk - Your Life ︎