🎵 IT048: Factory Street Discotheque
✏️ Dan Button
🗓 08.01.20
---

Dan is a designer, art director, illustrator based in London
Happy New Year, Dan! Can you tell us a little bit about your tape and your song selections?
Thanks man, and happy new year to you too!.
I gotta admit, the tape wasn't easy but I really enjoyed it. I love doing mixtapes/playlists and it definitely was a labour of love. For me they have to feel cohesive but also be varied in style. I wanted to take people on a bit of a journey, but I also wanted it to be accessible and informative too. Ah man, the pressure!
I ended up hitting on a theme about unlikely collaborations. How some artists end up working together, working with someone else and how all these collaborations link. Imagine Six Degrees of Kevin Bacon, but in music form. I also like how this overlaps with our
Hero of Switzerland
ethos a bit. All the artists we've collaborated with over the years, how friendships have formed and all the lovely lovely work in between. So we start with Fugazi, end with Apparat and each track is linked to the one before; sometimes with a little in between. I'll leave it to the listener to work out the links.
What direction did you take with your cover art, and what was your process?
I like my work to be pretty simple, so whatever the visual message, it needs to be easily understood. I thought a three legged race was a cute way to show collaboration towards a common goal.
What are your fave album covers, records with a great music and artwork combo, or musical projects with a visual component?


Goo – Sonic Youth
1990, DGC
Artwork: Raymond Pettibon


This album was a gateway to the band AND the artist for me.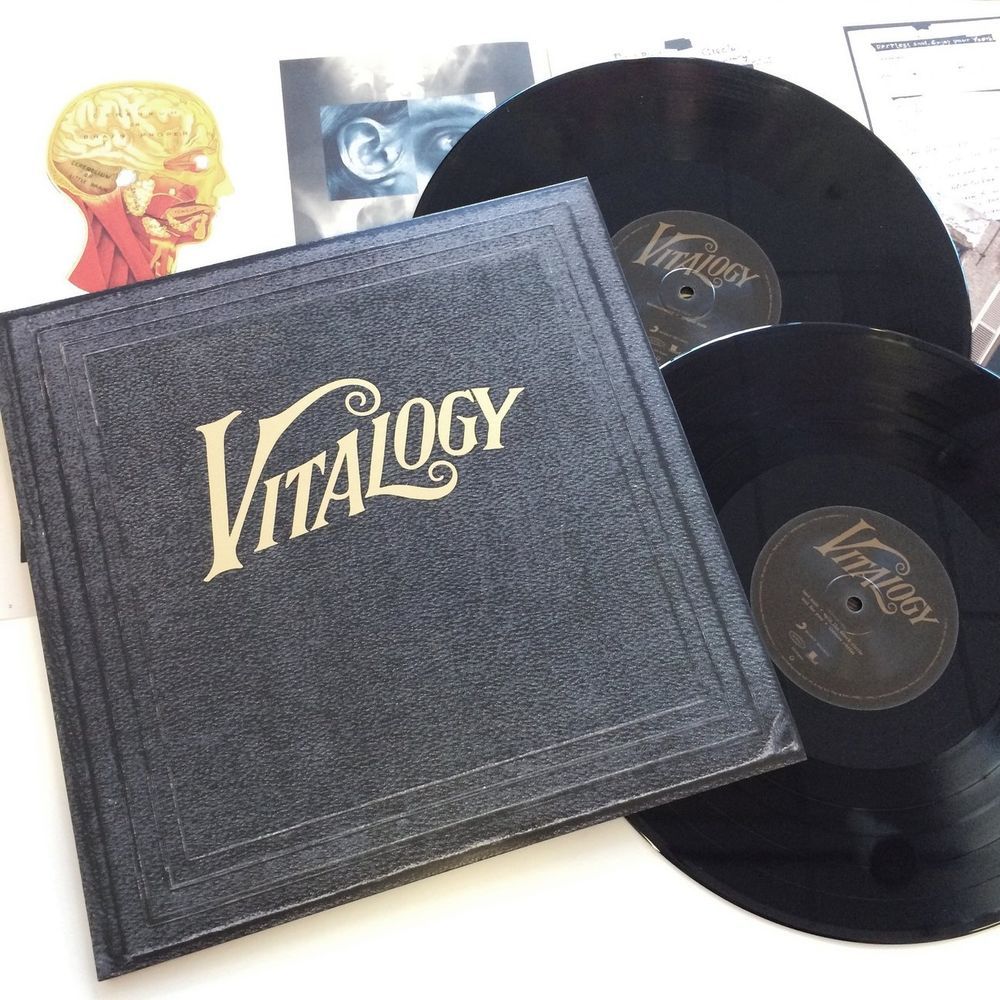 Vitalogy –
Pearl Jam
1994, Epic
Artwork: Eddie Vedder
Art Direction: Joel Zimmerman
No Code –
Pearl Jam
1996, Epic
Photography: A. Fields, Barry Ament, Chris McGann, Dr. Paul J. Bubak, Eddie Vedder, Jeff Ament, Lance Mercer, Mike McCready
The band have always been great at creating big concept pieces for their albums as they've always been champions of the larger format that comes with vinyl. I love that bands similar to them, like Radiohead and Tool, care so much about how their music looks as well as sounds. But
Vitalogy
really stands out because it's created to act like a book as there's so much to look at and read. As an album, it's a belter that has some moments of beauty, anger and experimentation.
You're A Woman, I'm A Machine
– Death From Above 1979
2004, Last Gang Records
Artwork: Jesse F. Keeler

It's just so iconic and the music was like nothing I'd heard before.

Worries
– Nine Inch Nails
1999, Nothing Records / Interscope
Artwork: David Carson

This came out whilst I was at uni, and then David Carson himself came and did a lecture for us which just had me captivated by his approach. I was such a fan of Raygun magazine (which he art directed) so it was a double whammy.


What did you listen to growing up?
I was born in the 80s when Michael Jackson was
the
guy. I was obsessed with him. I think as he had such a unique and well thought out visual style that supported his music – it made him even more appealing – as you'd just get lost in his music videos.
By the time I got to secondary school in 91 there were a few scenes that were breaking, in the form of rave, grunge and hip-hop. They all sounded like nothing I'd ever heard before – it was all so exciting, energetic and aggressive – perfect for any rebellious pre-teen.
And what's on heavy rotation for you at the moment?


I don't know how I missed
Joy as an Act of Resistance
by IDLES, but it's definitely been on heavy rotation recently. I love their sound and message. Squid are good fun and getting a bit of buzz on 6Music, but the 2019 albums that stood out for me were by Kim Gordon, Tool and Floating Points.
What's happening in your creative world at the moment?
For those that don't know me, I head up the illustration collective Hero of Switzerland, which I founded back in 2008. We've haven't got any solid plans for 2020 yet, but we usually have an exhibition each year, put on a couple of Drink and Not Draws (shout out to Daniel Jamie Williams), we show our faces at a few fairs, we'd like to do more Joy of Drawings (our fun Life Drawing classes led by Adam Graff) and we also try and get a few collaborative projects done when inspiration hits. Watch this space I guess.
I also have the day job where I'm a creative for an entertainment and sports agency – mainly designing and art directing events. This year we're creating a sound system fleet which'll do the rounds of UK festivals, some eSports stuff, and I'm creating some event bits and pieces for the Champions League Final. A fun and busy 2020.
Where can we find you?
I'm most active on Instagram these days so
@grandpabutton
for my bits and
@heroofswitzerland
for more illustration heavy stuff. Or check out my more official work at
danbutton.co.uk
or
heroofswitzerland.com
(which needs a lick of paint).
Thanks Dan!
TRACKLIST
Fugazi - Life and Limb / Ataxia - Another / Red Hot Chili Peppers - Show Me Your Soul / Tom Waits - Hell Broke Luce / Tom Waits - 'Tain't No Sin / R.E.M. - Star Me Kitten / Nirvana - Marigold / Cat Power - He War / Beck - Walls / Karen O - Woman / DANGERDOOM - Sofa King / MF DOOM - Retarded Fren / Radiohead - Everything In Its Right Place / Modeselektor - Shipwreck / Moderat - Bad Kingdom / Apparat - Goodbye ︎