︎
︎
︎
Mixcloud
/
Spotify
---
Russell is an illustrator and comic artist based in Bristol, UK.
Hi Russell, can you tell us a little bit about your tape and your song selections?
I kinda imagined it as the soundtrack to an awesome road trip movie that would also work as a something to play on a real road trip. Something like Fear and Loathing in Las Vegas meets Rocko's Modern World.
How did you go about the artwork?
It's a scene from the road trip movie I imagined would go with this soundtrack. I thought the car could have a personality like KITT from Knight Rider and the two main characters would be the car and the driver. This is them driving through the desert on drugs running over some desert zombies.
What are your fave album covers, records with a great music and artwork combo, or musical projects with a visual component?
All the Derek Riggs Iron Maiden artwork, that was the artwork that really made me want to do art for bands. I loved how he would carry on things from one album to another so when Eddie got a lobotomy on the
Piece of Mind
cover he had a lobotomy scar from then on. Also the cover to
Can I Play With Madness
is the greatest.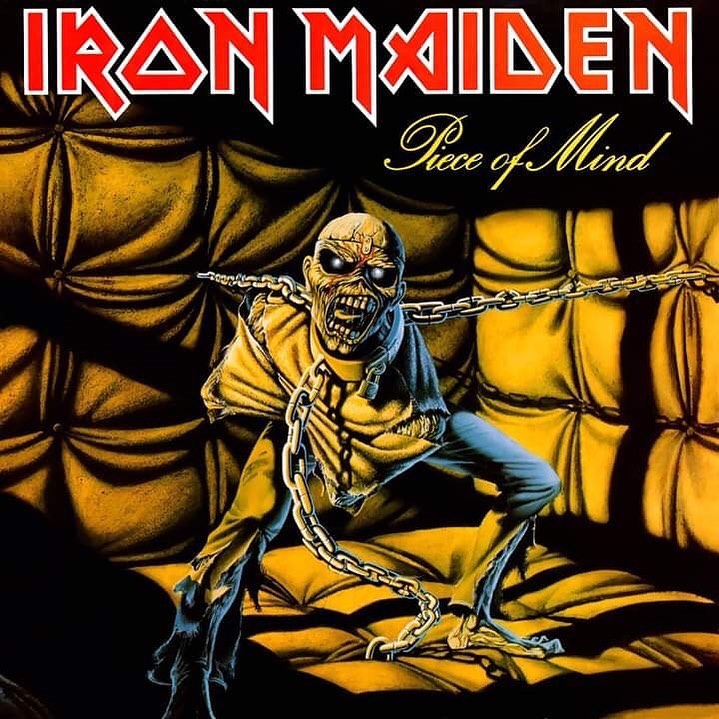 Iron Maiden -
Piece of Mind
1983, EMI
Artwork: Derek "Dr. Death" Riggs
Megadeath -
Rust in Peace
1988, EMI
Artwork: Ed Repka
Some of the Megadeth covers were cool, they went pretty wrong later on but the Ed Repka art was amazing. He did a ton of awesome album covers for mostly thrash bands in the 80's and he also did some really cool Mars Attacks artwork.
I'm a huge fan of the artwork for Green Jelly especially the first album (Cereal Killer Soundtrack) and their
video for 3 Little Pigs
is my all time music video.
What did you listen to growing up?
Iron Maiden, Guns 'n' Roses, ACDC, Alice Cooper and then I got into local punk bands.
And what's on heavy rotation for you at the moment?
A bunch of classic rock plus The Cars self titled album, Suicide's second album and
Penthouse and Pavement
by Heaven 17.
What's happening in your creative world at the moment?
I just did the drawing for
the new Idles video
which came out last week. Next month I have some badges in the Fake Wave exhibition at DIY Art Shop London. It's an exhibition all about fake bands with a whole bunch of artists I like in it. My fake band is Called The Toxic Wasters and it opens 28th August.
I've got some more t-shirt coming out with Trippy Burger and I've got an increasing number of unfinished comics. We might be doing another music video later in the year and I'm doing some stuff for a pizza box show at Atom Gallery which is raising money for Hackney Food Bank.
Where can we find you?
︎
russelltaysom.com
︎
@russelltaysom
Cheers Russell!
TRACKLIST
Zeke - Mystery Train / Sex Pistols - Something Else / Fu Manchu - Eatin' Dust / The Gun - Race With The Devil / Heart - Barracuda / Fear - I Don't Care About You / White Zombie - Black Sunshine / Metronomy - You Could Easily Have Me / L7 - Shirley / Megadeth - The Killing Road / Big Black - The Power Of Independent Trucking / Ministry - Jesus Built My Hotrod / Fang - Landshark / Meat Puppets - Lost / Alice Cooper - No More Mr. Nice Guy / Allah-Las - Busman's Holiday / Jan & Dean - Dead Man's Curve / Agent Orange - The Last Goodbye ︎