🎵 IT032: Cute Crush
✏️ Bobby Redmond
🗓 06.06.19



---

Bobby is a designer, illustrator and artist based in London.

What's up Bobby, can you tell us a little bit about your tape and your song selections?

Heya Illustrated Tapes!

I wanted to do a playlist dedicated to cute crushes and the feeling of crushing on a dreamboat. Fun/sexually charged with a touch of butterflies in your stomach. The song lyrics definitely capture this - but i also tried to pick songs that either oozed and swayed with infatuation or bubbled with excitement.

How did you go about the artwork?

From the get-go I knew the imagery and symbols I wanted to include. I had visions of scrawling in a notebook and heartthrob posters in a teenage bedroom in mind. I wanted to use classic symbols and icons as the interest me like hearts and eyes. I had to include a hunky guy silhouette too as lot of my personal work focuses on the male body.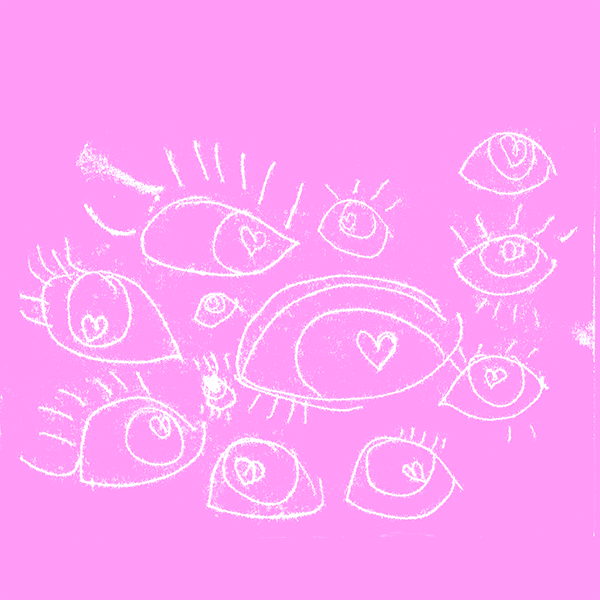 Proccess shots from Bobby's mixtape artwork

I made a couple of different versions of the artwork. I tried monoprinting, painting, and digital composition which i liked but they were missing the cutesy factor. In the end I felt paper cut collage was the best fit as it tied into the notebook idea i'd been channeling.

What are your fave album covers, records with a great music and artwork combo, or musical projects with a visual component?
Four Seasons of Love
– Donna Summer
1976, Casablanca
Art direction: Chris Worf
Design: Henry Vizcarra
Cover concept: Donna Summer, Joyce Bogart, Susan Munao
Photography: Mario Casilli
Adventures in Paradise
– Minnie Riperton
1975, Epic Records
Design: Ron Corro
Photography: Kenneth McGowan
Wild Cherry
– Wild Cherry
1976, Epic Records
Cover concept: Rob Rath
Photography: Frank Laffitte
The composition on these disco records! So beaut. For Donna I love a classic crescent moon and it suits the album perfectly as it's wonderfully composed with a track for each season.

I'm maaad about anything Braulio Amado does - especially the recent bits he's done for Róisín Murphy.


"All My Dreams" / "Innocence" – Róisín Murpy
2018, The Vinyl Factory
Artwork: Bráulio Amado
I also have always enjoyed Todd Terje's artwork by Bendik Kaltenborn - I like when an artist works with the same artist for all their artwork.

It's Album Time
– Todd Terje
2014, Olsen
Artwork: Bendik Kaltenborn
And finally some queer classics from Bowie/Keith Haring & Bronski Beat:


Without You
– David Bowie
1983, EMI America
Artwork: Keith Haring
Hundreds & Thousands
– Bronski Bear
1985, Forbidden Fruit
Design, artwork: Green Ink
Cake: Jane Suchodolski
What did you listen to growing up?
My family are all quite into music. My mother's taste was Leonard Cohen/Meatloaf/Mary Black, my da's was Eagles/Bowie while my brothers listened to Nirvana/Tool/Foo Fighters as teens. This all trickled into my forming taste while my sister and I were drawn to the Spice Girls / S Club 7 & Robbie Williams. So yeah - all over the place really.
What's happening in your creative world at the moment?
My main ongoing project is my painting and drawing - It's a personal exploration of sexuality and intimacy which I post on my instagram.
My day job is working as a graphic designer for
Lovebox
and
Citadel
festivals - this year we've been working on some really fun image collages with Lovebox so my animation skills are being put to the test which is great - always good to learn more software as it opens up creative doorways.
I'm also the illustrator for a poetry project, The Dancing Crows an mini booklet series of illustrated poems. Expect surreal illustrations with crows, disco balls & champagne.
I'm also trying to set up a casual drawing club (
Draw Ring
) with my long time collaborator
Hannah Presdee
- we go to each other's house to drink and draw in a more relaxed setting than life drawing so we're trying to step that up a bit and take it to the public.
Where can we find you?

︎
bobbyredmond.com
︎
bobsterbob
Thanks Bobby!
TRACKLIST

Frank Ocean - Forrest Gump / BROCKHAMPTON - SOMETHING ABOUT HIM / BROCKHAMPTON - SUMMER / Steve Lacy - C U Girl / Steve Monite - Only You / Aminé - Spice Girl / Charli XCX - Boys / Le Le - Breakfast / Troye Sivan - Bloom / Grimes - Pretty Dark (Demo) / Stacey Q - Two Of Hearts / Paula Abdul - Vibeology / Fern Kinney - Baby Let Me Kiss You / Bumblebee Unlimited - Lady Bug (Disco Mix) / Donna Summer - I Feel Love ︎