---

Conor is an illustrator, printmaker and designer based in Dublin.

Heya Conor, can you tell us a little bit about your tape and your song selections?

Hey! My tape is made up of songs that I think are good to listen to on my way home, sitting on the bus that's packed with people sitting silently. It's just under an hour long, the same length as my bus journey.

For the most part it's made up of songs that fit a very cliché moment of staring out the bus window while it's raining, watching the rain trickle down the glass. In less cheesy terms it's fairly low-tempo tracks with some sappy lyrics and noisy bits in there too. There's some relaxed tunes by people like Snail Mail and Pinegrove, among other highlights like a great Pixies cover, and an interesting stripped back Modern Baseball song.

How did you go about the artwork?

I tried a bunch of different things for the artwork, drawing buses, scenes from the view of the bus, people sitting in the brightly patterned seats, and combinations of those things. I draw a lot of people, faces, hands, that sort of thing, so in the end I decided to do something a little different and make a closely-cropped composition that captures the uncomfortable space between two strangers sat side by side.

What are your fave album covers, records with a great music and artwork combo, or musical projects with a visual component?

My first favourite album was From Under the Cork Tree by Fall Out Boy. I love the collaged elements and there's a special edition with slightly different artwork which is better, in my opinion.


From Under the Cork Tree: Black Clouds and Underdogs Edition
– Fall Out Boy
2006, Island Records / Decaydance / Fueled By Ramen
Art direction and design: Frank Gargiulo
The first album I actually bought was Demon Days by the Gorillaz because I liked the artwork. I also love the watercolour style of some of the Front Bottoms' albums, and think it suits the music really well.

Demon Days
– Gorillaz
2005, Parlophone
Artwork: Jamie Hewlett, Zombie Flesh Eaters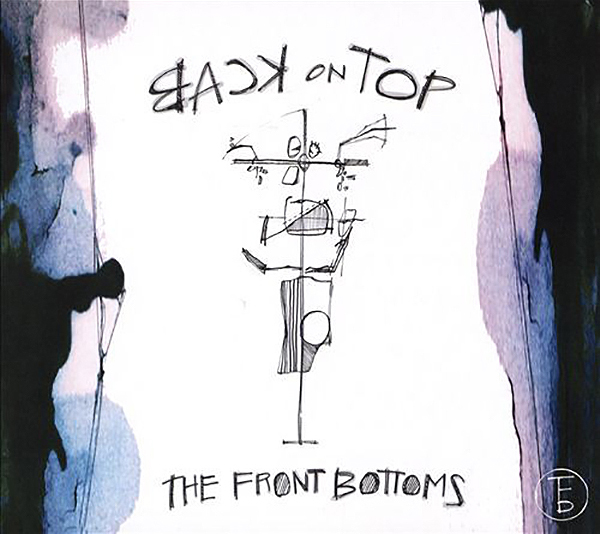 Back on Top
– The Front Bottoms
2015, Fueled by Ramen
Artwork: Jennifer Palomaa
What did you listen to growing up?
My dad was always playing music at home but it's nothing I think has had a big influence on me – William Shatner's spoken word stuff, Barry White, Ian Dury and the Blockheads, Simply Red – not my kind of thing. Some kids who were a few years older than me made a CD for me and my brother to listen to when I was about 9 or 10 that had Blink-182, Green Day, Sum 41 and all that old pop punk on it. I thought these kids were really cool. One time one of them cut holes in the knees of her jeans while sitting down, and when she stood up the holes were half way down her shins.
What's happening in your creative world at the moment?
I've been doing a bunch of cool projects! I just finished something for
Desk Jockey
that'll be in their next issue, I also painted a
mural
up in Belfast last week and just launched a risograph zine about walking my dog that you can get in
my shop
. I'm also releasing a print with
Damn Fine Print
soon, so keep your eyes peeled on that! It's busy times, I'm trying to gear up to explore some new creative avenues and push the boat out a little bit, I'm really excited about it.
Where can we find you?

If you want to see more of my work you can (and should) take a look at
my website
and you should definitely follow me on
Instagram
to keep up with all my work and pictures of my dog. Also if you're on
Twitter
I'm on there too. I retweet a lot of nice illustration stuff and also talk a lot of crap.
Thanks Conor!TRACKLIST

Pinegrove - Cadmium / Palehound - Silver Toaster / Modern Baseball - Mass Re-Done / Slaughter Beach, Dog - Monsters / Elvis Depressedly - Living Dangerously / Mom Jeans. - Edward 40hands (Audiotree Live) Version / Kississippi - Red Lights / Snail Mail - Let's Find an Out / Tigers Jaw - Bullet / Soccer Mommy - Flaw / Pity Sex - Gigantic / It Looks Sad. - Nagoya / Adrianne Lenker - Snow Song / Palehound - At Night I'm Alright with You / Forth Wanderers - Tough Love / Great Grandpa - All Things Must Behave / Eternal Friend / The Front Bottoms - Flashlight ︎